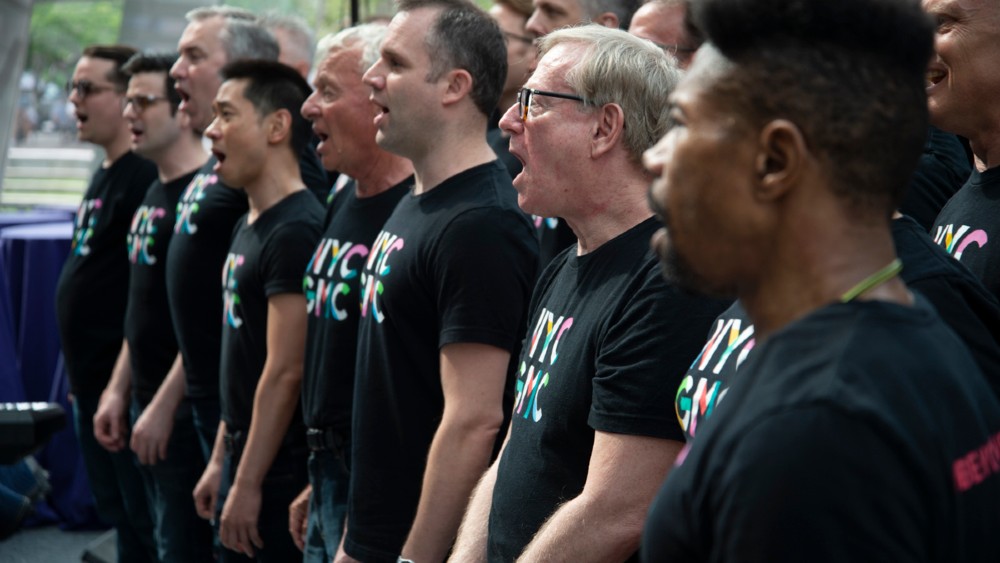 Author's Note and Acknowledgment:
This week has been perhaps America's most challenging and frightening in recent memory.

As a country, we have to be better than this. As individuals, we have to do a better job of inspiring more honesty, empathy, generosity, and justice.

While some may view the arts as inconsequential in defending democracy, I believe that it has an absolutely imperative role to play in fostering unity and humanity in the world. Arts give us a safe opportunity to peacefully explore difficult topics and themes and ask ourselves the questions that help us define who we are and who we want to be.

This week has reminded me of the importance of continuing our work in justice initiatives within our own communities. Today's article started off as a success story in recruiting and retaining singers. But now, I've grown a new appreciation for it as I look at it through the lens of equity, justice, and belonging.

I hope that this story inspires you to continue your essential work of bringing people together, building common bonds, and fostering compassion for others.
Defying Gravity: Growing Membership During Trying Times
While many choral organizations are struggling to retain their members in this new virtual choir world, others are using the virtual setting as an opportunity to grow. One such case is that of the New York City Gay Men's Chorus which created a new "associate member program" in 2020 that was open to any singer in the world.
With their new program, they've not only retained their existing 260+ singers, but they've welcomed an additional 114 singers into the fold as "associate members" that will participate in their virtual programming. No in-person rehearsals required!
To learn more about the success of this program, I caught up with Lisa Reilly, Executive Director of Big Apple Performing Arts, the nonprofit management company of the New York City Gay Men's Chorus and Youth Pride Chorus. She shares with me the story of how NYCGMC defied gravity and grew their membership amidst a global pandemic.
Q: Lisa, thank you so much for speaking with me today! Let's start at the beginning. How did NYCGMC come up with the idea for an associate member program?

Lisa: We started thinking about how the virtual choral space had fundamentally changed what was possible for singers. We carefully considered how we could provide the best, most comprehensive environment for singers to continue to learn and grow as vocalists while also maintaining a sense of community.
We realized that the normal restrictions that bind us, like geographic location and ability to pass an audition, no longer applied in the virtual space. Suddenly we saw that we could reach more broadly, comprehensively, and inclusively across all sectors, and, at that point, we got excited! We thought, let's welcome EVERYONE!
Q: Wow! It's great to hear that a virtual choir setting could be even more inclusive than before. What were some of your initial goals for the program?

Lisa: We had multiple goals for our singers: more training, more engagement, more activity, more music, and more of NYCGMC's mission of social equality and justice.
Our goal is to have everyone who participates be enriched and to make broad networks that are not constrained by geographical boundaries so that we can all — together — support the national work and dialogue that this country so greatly needs. The virtual moment is a prime time to acknowledge what can happen when we respond as a movement and not just as individual pockets of choruses. It's a time to join together and lift all of us up!
NYCGMC can help singers right now by providing the resources of music and professional instruction for singers from choruses that are currently fallow during the pandemic. Those singers will return to their home choruses with new skills, techniques, music, friends, connections, and activism that they can bring to bear in their work at home.
Q: That's a great point! Many singers really don't have a choral "home" right now but are still wanting to sing and work on musicianship skills. This helps address that need! How exactly does the associate membership differ from your standard choir membership?

Lisa: Both NYCGMC auditioned members and Associates have regular rehearsals and online performances and engage with musicianship workshops with our Artistic Director, Gavin Thrasher, on topics such as music theory, sight-singing, and vocal technique. We also feature masterclasses from top composers, vocal instructors, conductors, directors, and others in the performing arts business.
During this virtual period, NYCGMC auditioned singers and Associates are participating in virtual chorus projects and performances. We're offering the Associates membership on a cycle-by-cycle basis. When we return to in-person rehearsals and activities, Associates will have the option to audition for regular membership if they so choose. Auditioning will be a requirement for in-person activities in the future.
More information about Associates can be found here.
Q:
Sounds like a wonderful opportunity!
How successful has the program been?

Lisa: We were surprised and delighted by the response! For the fall cycle, we had 114 new Associates, and they were from all over the United States and Canada: Alaska, Michigan, Colorado, Montreal, Chicago, Connecticut – everywhere! We're hoping to welcome all of them back again for the spring cycle, which starts in February.
Q: That's literally... *does the math*... a 45% increase in your membership. What?! That's incredible! How did you promote it to get that many new singers?

Lisa: We put the word out on our website and GALA Choruses included it in an e-blast for us. We also sent out some press releases and it got picked up by MetroSource, which wrote our favorite editorial line: "Join NYCGMC online and become the diva you deserve to be. If you can make it queer, you'll make it anywhere. Have a (disco) ball!"
Q: Haha! I love that. What has the response been like from your singers?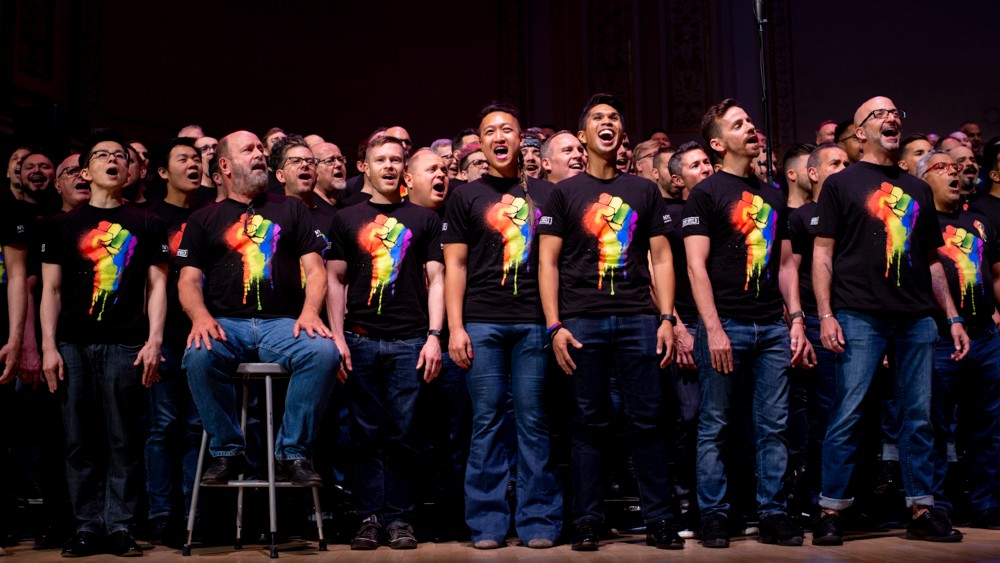 Lisa: A few examples of the positive responses we've received:

"I was so excited to read the announcement in the GALA newsletter about the associate program that you are offering (because honestly, what self-respecting Queer hasn't dreamed of singing with the NYCGMC?)" — Anonymous

"I got to experience working with NYCGMC last summer for Quiet No More and felt like I was pushed to become a stronger performer in the few days of rehearsals that we had and I've kept that with me and applied it when I came home and sang with [my home chorus]. I want to be a part of this program because I want to be challenged and grow as a musician and all-around performer." — Anonymous

"I have been home bound since the pandemic started due to age and health issues. Most importantly I love our community and this will offer a way to feel connected and be filled with the love of music and the love of like minds. What a wonderful idea and I would feel so honored to be a part of this." — Anonymous
Q: With such amazing success, I can't help but wonder: is the associate program something you plan to keep for the long-term?

Lisa: We're in the process now of signing people up for the spring cycle, which runs from February through May 2021. We haven't made a decision yet about the fall of 2021, but we're keeping our options open.
One possibility is that we will keep an online component to NYCGMC even after we are able to return to in-person activities. Like everyone, we're watching the course of the pandemic and trying to judge what will work — not just now, but going forward.
Overall, we want to be of service to the LGBTQ choral movement, so we're keeping our eyes on the best ways to do that safely and carefully while also providing excellent opportunities for singers everywhere.
Q: What do you think the long-term impact will be on your membership?

Lisa: We can already see that our auditioned members and our Associates have formed friendships that will survive well past the current circumstances. More connections between more singers leads to a stronger choral network, more collaborations, more music, and more community! We hope it strengthens both the individual singers in terms of using their instruments and their advocacy and that, in turn, strengthens the movement on the whole.
Q: What would you say to choruses that have never heard of this or have not yet considered it?

Lisa: We would say, MORE IS BETTER! Keeping our communities connected and healthy and singing is so crucial at this time, and we can all play a part in that. Whether singers come join NYCGMC, or find ways to stay in touch with their home choruses, we hope that we can all continue to engage in music, community building, and advocacy for social justice.
It's never been more important than it is right now. Finding silver linings like NYCGMC's associate program keeps all of us healthier, happier, and stronger to do the work that lies ahead.
Q: Thank you so much for sharing this story, Lisa! Anything else you'd like to add for our readers?
Lisa: We built this program as a service to the field and the movement, to expand the reach and breadth of music and mission, and to help all of us reach for the most radical egalitarianism in the most pragmatic way at this insanely difficult time.
We urge everyone in the movement to consider how we can be stronger together this year, rather than struggling by ourselves in isolation. We look forward to a time when all of us are able to meet in person again and lift our voices with our home choruses as we work toward social justice as a movement.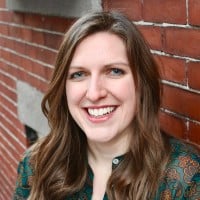 Tori Cook is the former Director of Sales & Marketing at Chorus Connection, an active board member of the Greater Boston Choral Consortium, and a soprano with the Tanglewood Festival Chorus. In a past life, she was the Music Director of the Harborlight Show Chorus and President of Chorus pro-Musica. When not making music, she daydreams about adopting a golden retriever puppy and scuba diving to exotic locations around the world.