A presentation on video monetization strategies for virtual performances.
In this session, we'll demonstrate a variety of methods for generating revenue through online performances. We'll cover ticket sales, fundraising, advertising, and member pricing strategies for arts organizations. This session was first presented at the GALA Leadership Symposium in October 2020.
Direct Revenue Streams
There are five key direct revenue streams for virtual concerts and performances:
Let's dig into these streams a bit more!
Ticket Sales Models
There are many ways that choruses can sell tickets online. Choosing the right ticket sales model will depend on whether the organization is classifying their virtual concert as an event or digital content. Here are six ticket sales models available for virtual concerts.
1. Standard Ticket Sales Page
This option is a simple e-ticketing page exactly as typically used for live performance ticket sales.
WHAT YOU NEED:
An e-ticketing solution or event registration software with the ability to customize your receipt and messaging to ticket buyers with a link to your virtual content.
You may also wish to use a system that creates and send unique URLs so that only one ticket buyer can access the content. If the software does not have this functionality, you may also be able to use your email marketing tool to create these unique URLs (such as Mailchimp's unique URL tool.)

SAMPLE SYSTEMS:
EXAMPLE:
Here's an example of this setup from Chicago Gay Men's Chorus.
2. Standard Event Subscription Model
This option is exactly the same format that choruses might use to sell season subscriptions for live performances.
WHAT YOU NEED:
A payment processor or e-ticketing software with the ability to add items to a cart, checkout, customize receipts, and collect contact information to communicate with your purchasers.
You may also need a system that generates unique URLs for each individual ticket buyer.
SAMPLE SYSTEMS:
EXAMPLE:
See this example below from the Chicago Chamber Choir.
3. Recurring Subscription Model
This option is very similar to the season subscription sales model above, but, instead, asks ticket buyers for a recurring content subscription fee.
WHAT YOU NEED:
You'll need content subscription software or donor management software with the ability to accept recurring payments.
SAMPLE SYSTEMS:
EXAMPLE:
This is an example from Choral Arts Washington.
4. Individual Video Content
With this option, you can gate or block access to your digital content with a paywall. This gives you the ability to sell each individual piece of content or even each individual viewing of that content.
WHAT YOU NEED:
You'll need a video monetization platform. These types of tools give you the ability to gate your video content with a paywall. Some will give you the ability to sell one piece of content or several in a bundle. Even better, some will also allow you to sell advertising via their advertiser pool to bring in additional revenue!


SAMPLE SYSTEMS:
EXAMPLE:
Here's an example of a video monetization tool used by Voces8.
5. Gated Website Content
This is essentially where your content is housed on specific pages of your website and someone has to pay to access those webpages. Ticket buyers will need to pay for the login privileges to access to the content.
WHAT YOU NEED:
The easiest solution to make this option work is to add plugins to your content management system that allow you to sell members-only pages. If you use WordPress for your website, there are a lot of plugins out there and a few for Squarespace and Wix as well. You may also need a web developer to help build it out in your existing website.
SAMPLE SYSTEMS:
EXAMPLE:
Here's what GoPaywall looks like for Squarespace.
6. Digital Content Sales
You can create products for sale on your website or on another site like Shopify. Think of it like a digital shopping cart — there's a checkout process for each product, you can add multiple items to your cart, and checkout. The digital files are then typically provided as a download after checkout.
WHAT YOU NEED:
For this, you'll need an online store with the option to add digital content as "products" in that store.
SAMPLE SYSTEMS:

EXAMPLE:
Here's an example of an online store from Facebook Products.
Donations & Fundraising
Whether you decide to sell tickets or not, you'll always have the option to bring in additional revenue from fundraising at your virtual event. Here are just a few ideas:
Donation-Based Ticket "Purchases"
In the same way that you could choose to sell tickets, you can also offer paywalls that give the ability to donate instead of set a price.
WHAT YOU NEED:
In order to accept donations for tickets in lieu of selling tickets, you'll need either an e-ticketing solution with donation-ticket tier options or donor management software.
SAMPLE SYSTEMS:
Peer-to-Peer Fundraising
A virtual concert provides you with a unique opportunity for peer-to-peer fundraising initiatives. One approach is to set up individual donation pages for each of your singers and ask them to "invite" friends to their concert by making a donation to their page. As they collect donations and email addresses of their peers, you can then communicate and send out links to the concert to them directly. To make it even more fun, consider incentivizing it — such as providing prizes for the singer with the most donations!
WHAT YOU NEED:
In order to implement a peer-to-peer fundraising strategy, you'll need donor management software with individual fundraising pages. You can even utilize some social media sites with individual fundraisers, like Facebook.
SAMPLE SYSTEMS:
Live Fundraising Activities
During your live virtual concert, you can also host live virtual fundraising activities to fundraise in real time.
WHAT YOU NEED:
For virtual fundraising activities, you'll likely need donor management software and software that helps you plan the activities you're looking to do. Text-to-give systems, for example, can help you plan text donation campaigns. Whereas auction software, can help you coordinate silent auctions.
SAMPLE SYSTEMS:
SAMPLE ACTIVITIES:
Here's a short list of brainstormed activity ideas for your virtual event:
Utilize your "intermission" and concert announcement to run fundraising campaigns.
Run a text-to-give campaign with which the first x amount of donors will be entered to win a prize to be announced live during the event — even better if the prize comes from a sponsor!
Set up virtual cabaret performance tip pages and have participants donate to their favorite performer's page. Incentivize the performers or even the donors with prizes!
Set up a main fundraising webpage for the event and have donors donate throughout the night. Set a goal and plan an end-of-concert surprise if you reach that goal!
Encourage participants to take "concert selfies" of themselves watching the virtual concert. Ask them to share it on social media with your event's hashtag and a donate button or sticker. You can even incentivize the person with most likes on their post!
Solicit a donor match for the event.
Take virtual coffee or drink breaks and ask participants to donate what they would have spent at a restaurant.
Sponsorships
Like any event or content, you always have the opportunity to get sponsors. Create a sponsorship packet with tiered benefits and reach out to companies to obtain financial contributions and/or material goods for prizes, drawings, or activities!
SAMPLE INCENTIVES:
Logo placements/listing in credits

Logo placements on introduction slide at the start of the event
Video advertisements
Live shoutouts
Hyperlinks/content cards to advertiser's website
Logos/listing in digital programs
Material goods for prizes, drawings, activities, etc.
Advertising
Similar to sponsorships, you can sell advertisements directly to corporations or individuals. Many video monetization tools or social media livestreaming video tools will have built-in opportunities for you to earn revenue by selling advertisements.
SAMPLE ADVERTISING OPPORTUNITIES:
Sell ads in your digital programs
Sell video placement ads directly to businesses
Use livestreaming platforms' advertising accounts (YouTube's AdSense, Facebook In-Stream Ads, etc.)
Affiliate marketing links or joint partnerships with discounts and shared revenue
Participation Fees
Choral organizations are used to charging fees to participants of their programs —such as member dues. Similarly, for your virtual events, you could charge your participants a fee or loop the fee into your member dues.

To collect payments you'll need the ability to process participant or member payments using tools such as and event registration tool with a paywall, like Zoom, or an online store with store items for your member like Chorus Connection or Shopify.
Indirect Revenue Streams
Utilize your virtual events to generate leads, gain email subscribers, build community followers, and such. Instead of charging access to your virtual events, consider gating your events with a form to collect contact information from your attendees. Encourage people that attend your event to follow you on social media and include the ability to share the event on your event webpages. This is a great way to build your brand awareness and outreach to help fuel future growth!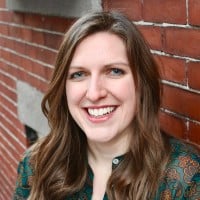 Tori Cook is the former Director of Sales & Marketing at Chorus Connection, an active board member of the Greater Boston Choral Consortium, and a soprano with the Tanglewood Festival Chorus. In a past life, she was the Music Director of the Harborlight Show Chorus and President of Chorus pro-Musica. When not making music, she daydreams about adopting a golden retriever puppy and scuba diving to exotic locations around the world.