Many nonprofit choruses rely on only part-time staff members to run the entire organization. Therefore, time is incredibly important and saving time is crucial for the chorus operations to run smoothly.
One way to save time is to integrate as many systems as possible to avoid manual data entry. That's why we've decided to dedicate our blog to automation this month! #AutomationApril
Over the next few weeks, I'll take you through various automation strategies to save your chorus time. This week's topic: integrating your ticket sales platform with your email marketing platform.
Why You Should Sync Your Chorus's Ticket Buyers to Your Email Marketing Platform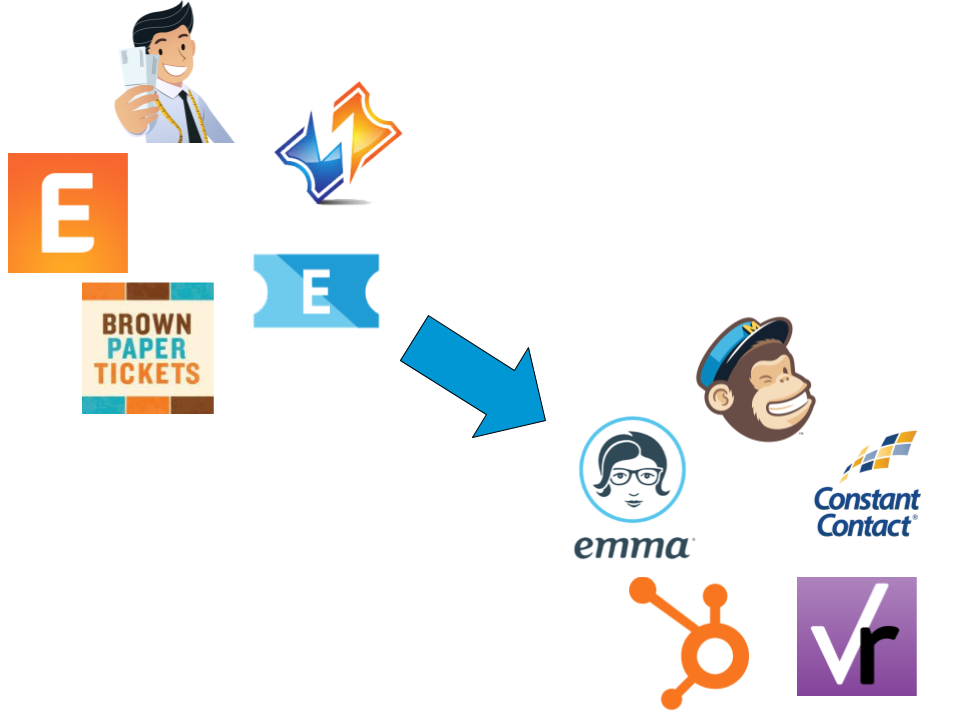 Your chorus's ticket buyers are perhaps some of your most engaged contacts as they've already purchased something from your organization. Now your marketing team will need to continue nurturing that relationship through email marketing efforts in the hopes of building loyalty with them.
Here are three things you can do when you sync your ticket buyers' contact information over to your email marketing platform:
Grow your email subscriber list for future promotions.
Create a segmented list of ticket buyers to exclude from any additional "promotional" emails for the performance. No one wants to receive another email to purchase something they have already purchased!
Use the same segmented list to send important concert updates such as program notes, parking information, and other "know before you go" information.
Ultimately, by having this data synced to your email marketing platform, your marketing team can send better, more targeted, and more relevant emails to your contacts.
How to Sync Your Ticket Buyers to Your Email Marketing Platform
So then, how do you actually sync the data? There are many ways to sync over your ticket buyers' contact information to your email marketing platform.
Direct Integrations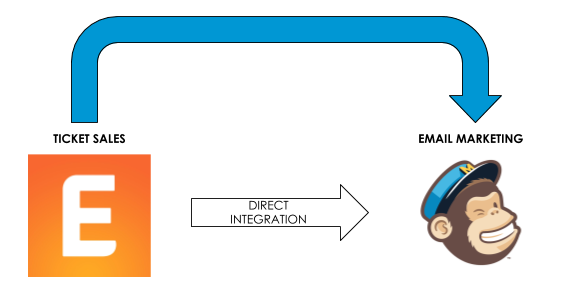 Some ticket sales platforms already have direct integrations with popular email marketing platforms. Direct integrations are a good option because they limit the risk of potential data loss between the two systems. Here are a few known direct integrations:
Integrations with Automation Software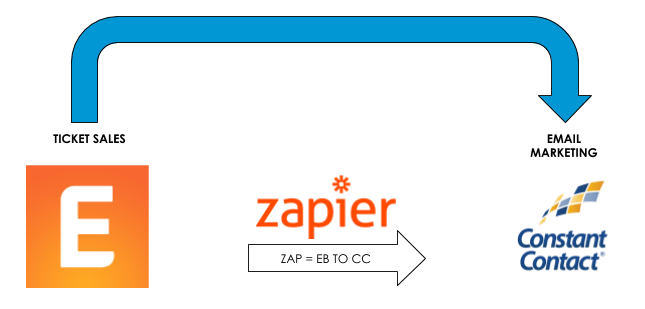 Automation tools like Automate.io, IFTTT, Workato, PieSync, and Zapier can help integrate thousands of applications that don't offer direct integrations. (Note: Automation tools sometimes come with their own subscription fee.)
Here are a few integrations you can make using Zapier:
Work-Arounds with Automation Software
While automation tools can sometimes directly connect two platforms, there are still limits to which applications are accessible in each automation tool. So what do you do when your two platforms still don't connect directly with the help of an automation tool? I'm about to blow your mind (I hope).
Let's say that you use Eventbrite for your ticket sales platform and Vertical Response for your email marketing platform. There is no direct integration between the two platforms and there is also not a way to connect the two directly with automation software. However, keep in mind that automation software, like Zapier, can connect with a whole host of other applications and some of those applications DO connect with Eventbrite and Vertical Response. The key is to find the common denominator the links the two.
To do this, first search Eventbrite in an automation tool like Zapier. Then look through all potential combinations of connections. Then search Vertical Response and again look through the possible combinations. Do you see an app that was available as a connection for both of your platforms? How about MailChimp?

We already know that Eventbrite directly integrates with MailChimp (as shown in our direct integrations list above). Inside Zapier, you'll see that VerticalResponse also integrates with MailChimp. Therefore, if you want to integrate Eventbrite and VerticalResponse, you can use MailChimp as the connector to push the data through. The formula would look something like this:
Set up a the DIRECT integration from Eventbrite (platform 1) to MailChimp (the common connector). (Note: you will also need a MailChimp account).
Then, inside your automation tool, set up a connection, zap, or workflow from MailChimp (common connector) > VerticalResponse (platform 2).
So now the flow looks like Eventbrite > Mailchimp > Zapier > VerticalResponse
If there's a will, there's *usually* a way. This is obviously a very convoluted solution and should only be used when there is no other way! Remember to always shoot for the direct integrations first before doing a work-around like this one.
"All-in-One" Platforms
It is important to note that there are a few systems that market themselves as "all-in-one" ticket sales and email marketing platforms such as PatronManager and Vendini. There are plenty of reasons to use an "all-in-one" platform - perhaps the most important reason is that your data stays in one place. But there are also just as many reasons to use separate platforms for different tasks - platforms built for one specific purpose can offer better functionality and more features. Use what works best for your organization! Either way, remember to automate, automate, automate.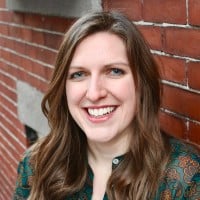 Tori Cook is the former Director of Sales & Marketing at Chorus Connection, an active board member of the Greater Boston Choral Consortium, and a soprano with the Tanglewood Festival Chorus. In a past life, she was the Music Director of the Harborlight Show Chorus and President of Chorus pro-Musica. When not making music, she daydreams about adopting a golden retriever puppy and scuba diving to exotic locations around the world.