Every chorus concert has some element of production required to run the performance. Whether the concert is a large-scale production or not, in each case the venue, staging, lighting, and sound need to be considered.
Paul Doyle is Producer for MenAlive Orange County Gay Men's Chorus and a former board member of Palm Springs Gay Men's Chorus where he focused on the production/staging for performances. So, he knows a thing or two about producing a concert! Together, we compiled this list of production considerations necessary for planning a chorus concert.
Venue Considerations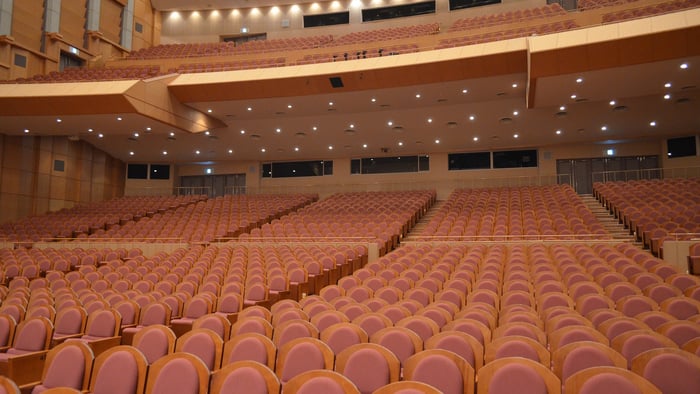 When you're planning a performance, it is a good idea to do a site visit of the venue and get a copy of the full venue layout, if possible. Here are some considerations when taking the venue into account for your production plan:
What is the stage

size

, proscenium

? How many singers and instrumentalists can fit on stage?

Do you have curtains? Which way do they open - to the sides (traditionally) or lift up (grand style)?

What are the acoustics like? Will you require a sound system for speakers, soloists, or chorus or will the sound carry as is?
What type of sound and lighting system is available for use?
What is the backstage area like, if any? What are the wings or walkways like?
What is the audience size or venue capacity? What is the layout of the audience?
Will you need venue personnel to manage the audience, lobby, lighting, sound, and/or backstage areas? How much will this cost?
How many rehearsals will you need in the venue in order to work through chorus entrances and exits, lighting/sound cues, and staging?
What equipment and instruments are available for use in the venue? Are they available for rent, if needed? Are risers available or will they need to be delivered? How will a piano get on stage, if needed?

Is there a communications system between the stage, follow spots, and the lighting and sound booths?
Staging Considerations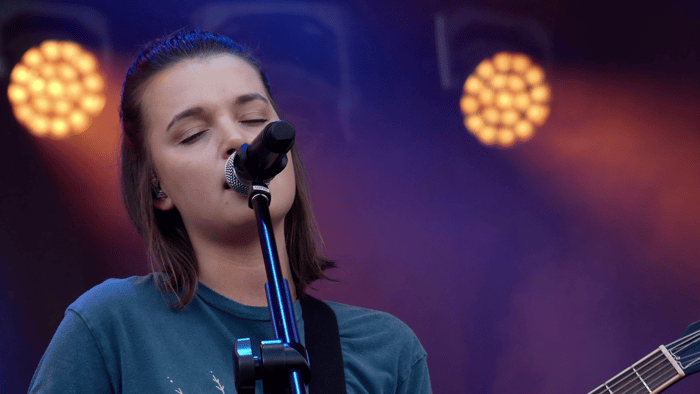 The staging needs to be carefully considered when planning lighting and sound. Here are some staging considerations:
How will the chorus get on and off the risers?

Is there enough room on the risers for any choreographed movement?

Where will the soloists, speakers, or small ensembles stand? How will this play into the lighting and sound of each?
How many total singers and instrumentalists will be on stage? What is the best layout for all musicians?
Where will the conductor stand and what equipment is needed for them?

Will the conductor be in the orchestra pit? Will they need a monitor?

How will the chorus or soloists utilize the wings or walkways?
How will you mark the stage for soloists, instrumentalists, and equipment?
Who will manage the staging cues during the performance?
Lighting Considerations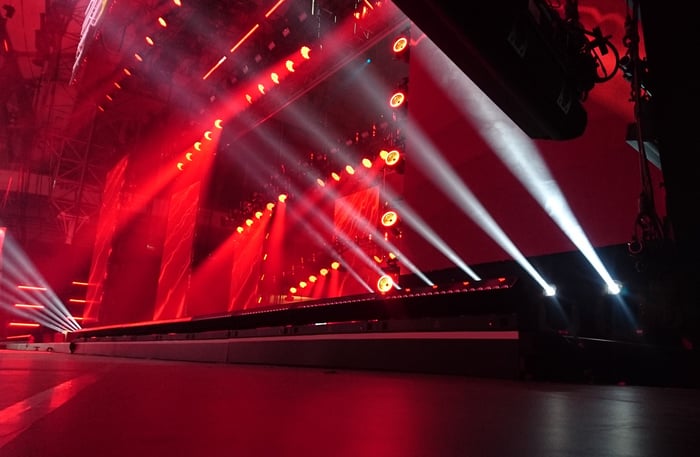 The lighting systems will vary from venue to venue. For more advanced lighting systems, look for venues like theaters, opera halls, or major concert halls. For basic lighting, most churches, auditoriums, or small concert halls will have all that is required.
Advanced lighting systems are often computerized now with a console, such as an ETC or Martin lighting board. It may be necessary to hire someone, such as a Master Electrician, to operate the lighting during the performance. You'll want to look for someone who is certified on the lighting board available so that they know how to program and run the system. Simpler systems can often be operated by venue personnel or a chorus volunteer.
Once you know what type of lighting is available at the venue, here are some other considerations:
Does the lighting board require someone to program and run it?
What is the general mood or lighting required for the concert or specific pieces of repertoire? What groups of people will need specific lighting throughout the performance?
What kind of lighting units are available?
Can you do a wash on the chorus - are floodlights available? Are colors available for the flood and if so, how many colors are possible?
Are there any special units for spotlight effects on stage for solos? Do you need any fixed or follow spotlights?
Are you able to light a small group on stage while blacking out the chorus (for small ensembles)?
Is there side lighting available for an added dimension instead of only front lighting?
Any other special lighting required (such as audience or aisle lighting)?
Are there curtain warmers?
Will you need to bring in any additional lighting from third-party vendors? What equipment is needed?
Sound Considerations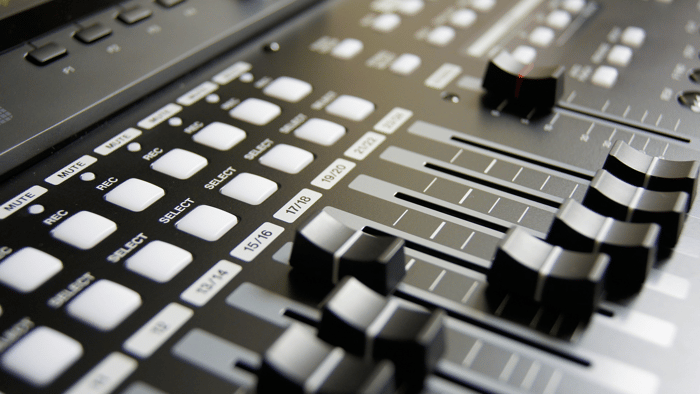 Similar to lighting, sound systems vary from venue to venue. Some are more advanced and require a sound technician, while others are more basic and can be operated by staff or volunteers. Here are some considerations for sound:
Does the sound board require someone to program and run it?
How many choral microphones are needed to pick up the chorus (based on chorus size)?
Who will have specific sound needs throughout the performance? Do you have speakers, small ensembles, and/or soloists?
Where on stage will the microphones need to be positioned?
Based on the acoustics of the venue, will you need to provide speaker arrays to help un-muffle the sound?
Will you need "wired" or "wireless" microphones? Do you need handheld or headset type microphones?

Who will manage handing the microphones

to individuals?

Or placing microphones (stands) for ensembles or soloists?

A Robust Production Team
For large-scale productions, a full production team might include the following positions:
Producer
Sound Technician
Master Electrician
Equipment Loaders/Unloaders
Stage Manager
Assistant Stage Manager
Backstage Manager
Follow Spot Operators
Fly Rail Operator
Backstage Sound Manager
Tech Manager
Construction Crew
A Production Budget
The production budget depends on the needs of the performance. Budgets can range from a couple thousand dollars for simple production plans to tens, if not hundreds, of thousands of dollars for more elaborate production plans. The good news: every chorus can make a production plan that fits in their own budget.
Sample of Basic Production Plan
Sample of Elaborate Production Plan
Production Tips for Success
Having a good production meeting is key!

PLAN, PLAN, PLAN!

Map out the whole concert with the artistic director, the choreographer, stage managers, electrician, sound technician, and full crew.
Understand the music and know how you want to enhance the musical message with your lighting, sound, and staging. You should also know everything that is happening in the show such as any choreography, soloists, small groups, instrumentalists, speakers, etc.
After your sound technician has set the microphones for the performance, do not move them or arrange for other speakers to grab. Often times, the sound technicians will position microphones for optimal sound. They also have programmed or noted which specific microphones will be in use, when they will be used, and who will be using them. Moving the microphones can ruin this pre-planning.

Don't be afraid to "spike" the stage for positions. Use small pieces of spike tape to create an "X" where soloists, speakers, ensembles will stand. Also, for permanent stand microphones on the stage, tape the floor where they are positioned, in case they are accidentally moved.

Write out the full production plan with lighting cues on one side of the page and sound on the other. Include any staging or lyrics that can help make cues easier to recognize. Send plan to the whole production crew and run through the entire program with all parties present!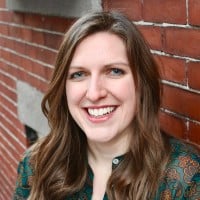 Tori Cook is the former Director of Sales & Marketing at Chorus Connection, an active board member of the Greater Boston Choral Consortium, and a soprano with the Tanglewood Festival Chorus. In a past life, she was the Music Director of the Harborlight Show Chorus and President of Chorus pro-Musica. When not making music, she daydreams about adopting a golden retriever puppy and scuba diving to exotic locations around the world.