Some of you know that Chorus Connection's employee choir, The ChoCo Puffs, have somewhat of an annual tradition of singing holiday choral parodies. This year, we simply couldn't resist singing about the #dumpsterfire that is 2020.
We hope our virtual parody of the holiday classic, "The Christmas Song," puts a smile on your face!

The COVID-19 Song
By The ChoCo Puffs, Chorus Connection's employee choir
Chestnuts roasting on a dumpster fire.
This year's packing quite a punch.
Yuletide carols are now sung by choirs,
That look just like the Brady Bunch.
And I've got a hunch, some ring lights and a laptop glow,
Will help to make the season bright.
And though it sucks to rehearse all alone,
I'm not wearing pants tonight!
We hope that Santa stays at home,
'Cause no one wants a superspreader on the roam.
And as for wearing masks, please comply!
So we can kiss this stupid virus goodbye!
And so, we're echoing this simple phrase,
From kids from one to ninety-two.
By now, we've all said, many times, many ways...
2020, f*ck you.
Want to leave this dumpster fire behind and start 2021 on the right foot? You too can stay organized, engage and retain your singers, easily share digital files, and implement touchless payments in the new year!
This month only, save 25%* on our chorus management software. Book a demo today and, as a bonus, we'll also throw in a $25 Amazon gift card!**
Offer Details:
*Get 25% off your first year with Chorus Connection and pay no setup fee. Enter discount code DUMPSTERFIRE2020 at checkout.
**Demos must be booked and completed by December 31, 2020. Gift cards will be sent upon demo completion (allow up to 2 weeks for processing). This offer is only valid for volunteers, staff, or board members of community-based choral organizations in the U.S. Only one $25 gift card eligible for each choral organization.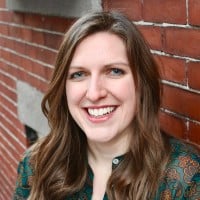 Tori Cook is the Director of Sales & Marketing at Chorus Connection. She sings with the Tanglewood Festival Chorus and is a board member of the Greater Boston Choral Consortium. In a past life, she was the Music Director of the Harborlight Show Chorus and President of Chorus pro Musica in Boston. When not making music, she daydreams about adopting a golden retriever puppy and scuba diving to exotic locations around the world.