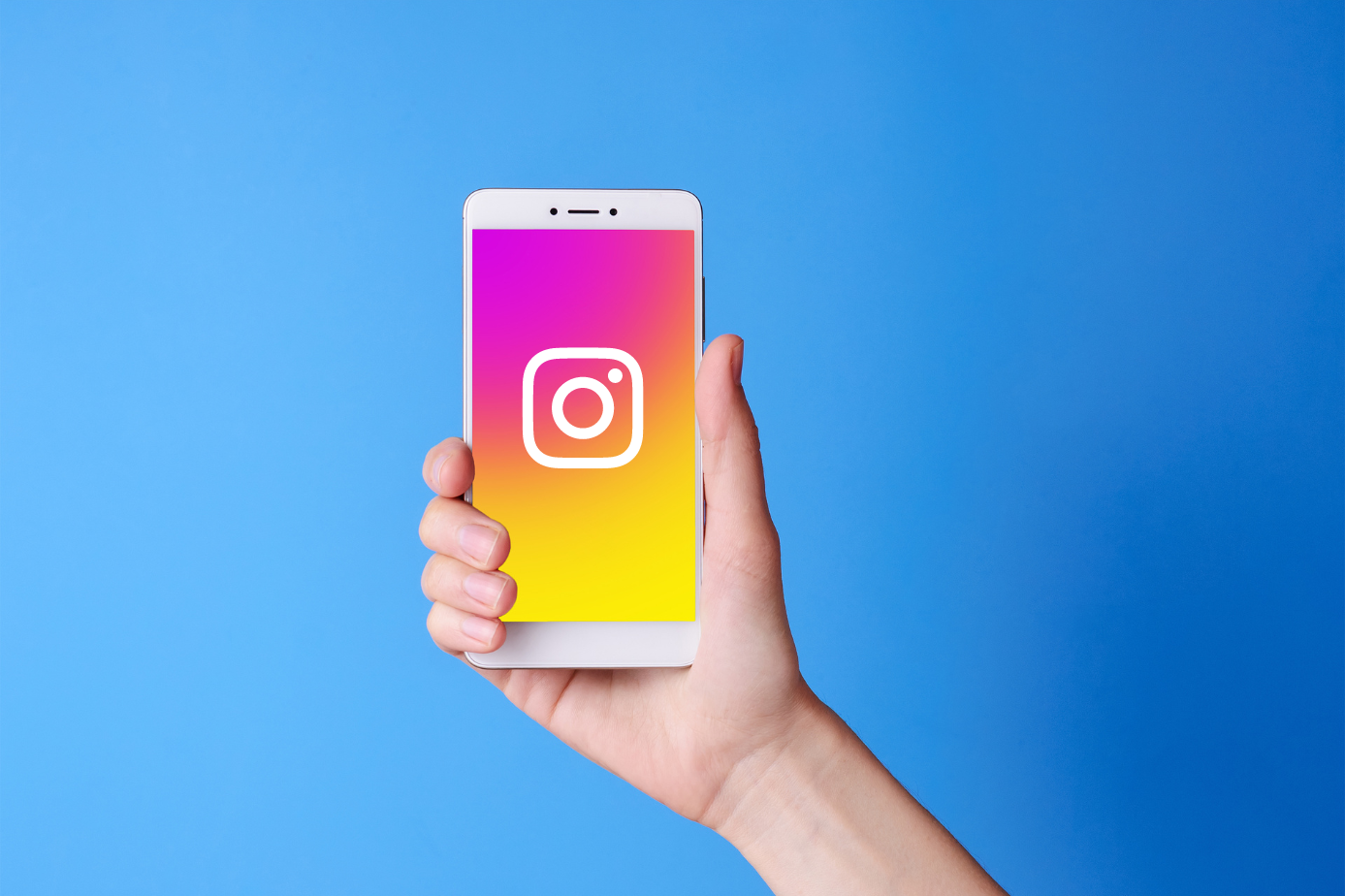 With its video, photo and interactive capabilities, Instagram is one of the most popular social media apps. Across the world, nearly 1.4 billion users log into Instagram every day for their news, entertainment, shopping, and to communicate with family and friends.
And it's time for you, nonprofit chorus marketer, to get a piece of the Instagram pie.
Closing out my two-part series on optimizing your Instagram presence (you can read part one here), I hope to empower you to embrace unpolished content; inspire you to experiment with new ideas; and demystify some marketing jargon along the way.
1. What are hashtags (and how to use them on Instagram)
A great way to increase your discoverability and engagement on Instagram is through the use of hashtags. If you're active on social media, you've undoubtedly seen the use of hashtags related to #MondayMotivation posts or #GivingTuesday campaigns to name a few.
What are hashtags? Typed as one word with no spaces, and beginning with the pound (# hash) symbol, hashtags tie public conversations from all different users on a given platform into one single stream.
How can hashtags be used in marketing? They can be used to help create buzz for a launch — think fundraising campaigns, a new concert series or an album release. Not only are they clickable and searchable on Instagram and other social platforms, but hashtags can help increase the organic reach of your content, as well as build a sense of community among your patrons and followers.
The Phoenix Chorale creatively used the branded hashtag #RACHparty to celebrate the release of its Rachmaninoff "All-Night Vigil" album in 2015. Strategic use of the hashtag helped tie together not only the social media posts related to the album release, but also the album's subsequent Grammy win one year later.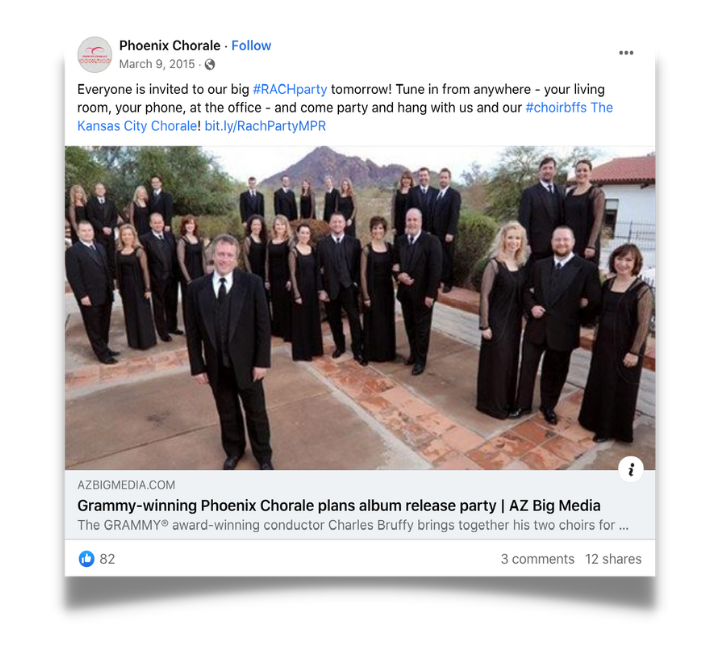 By encouraging your patrons to share photos, videos, stories or other content on social media using your branded hashtag, this tool can be a great way to source user-generated content (UGC) to feature on your platforms or upcoming campaigns, for example.
Pro tip: Learn more about user-generated content in this handy Hootsuite guide.
What hashtags should you use? Whether you're new to hashtags or already embrace them as part of your marketing strategy, here are some hashtag ideas:
Create a hashtag specific to your chorus, such as your choir's name or tagline: for example, #ChorusConnection, #ClassicFM, and #NYphilharmonic.
Create branded hashtags specific to your campaign or event: for example, you could create a hashtag based on the title of an upcoming concert program, e.g. #DesertChristmas, #MythsAndMusic.
What you do / your industry does: for example, #choralmusic, #acappellachoir, and #CommunityChorus.
Where your chorus is located: for example, #Phoenix, #PhoenixAZ, or #DowntowPhoenix.
Popular hashtags for local arts and culture: for example, #PhoenixArts and #PhxCulture.
Where should you use hashtags? Once you've chosen your hashtags, here are some ideas for where they can be used on Instagram and beyond:
Instagram captions - include them on their own line at the very end of the caption.

Instagram bio - if you have a branded hashtag like #ChorusConnection, you can include it in your bio if there's room.

Website landing pages - if you've created a branded hashtag for a specific concert or marketing campaign, make sure it's included on the website landing page for that promotion.

Concert programs - showcase branded hashtags in your choir's concert program with a call to action (CTA) encouraging patrons to share the hashtag on social media with their photos, videos, or memories from the night.

Photo props - if you've got the bandwidth and budget, you can create an interactive and memorable patron experience before and after the concert with a branded selfie photo frame, complete with your campaign hashtag.
Pro tip: Capitalization has no effect on hashtags, but you might choose to capitalize certain words or letters if it helps with readability or aesthetics. (#ChoralMusic vs. #choralmusic)
2. Instagram SEO: Keywords count
The idea of search engine optimization (SEO) can seem a little nebulous at first — especially when used in reference to Instagram. Simply put, SEO involves incorporating relevant keywords into your online content as a way to help your target audience find you.
What are the words someone would type into Google to find you online? These are relevant keywords. Make sure to include the most important keywords in your Instagram bio, in your captions, and even in image alt text.
Another way to improve your Instagram SEO is to write descriptive captions rather than fleeting captions that only contain emojis or a short sentence. A great example is the following post by Harris Theater Chicago:
Not only is the caption descriptive, it uses relevant keywords as well as a call to action.
If you're not sure where to begin with keywords, start with some of the hashtag suggestions in the previous section and go from there.
3. Experiment with Instagram Reels
I know, I know. This is the one you've been dreading, right? Look, I'm not going to create more work for you, but I am going to encourage you to keep things fresh by experimenting with Reels, and for good reason.
Reels are one of the absolute best ways to reach new audiences. Fun fact: 1 billion people share Reels through Instagram direct messages (DMs) every day! And while the thought of making Reels might feel overwhelming, you just need to start with one.
First, to learn the process of how to actually create Reels, Hootsuite's step-by-step guide is a great resource. Once you've got the hang of the creation process, here's a simple Reel idea to get you started:
Share a 15-30 second Reel of your singers rehearsing for an upcoming concert – pan the camera across the room (not too fast!) to capture the feel of the space. Include a CTA in the caption to purchase tickets.
One very important thing I want to emphasize is that Reels do not need to be overproduced. People enjoy real and relatable content — so try not to stress about creating the "perfect" Reel, because it simply doesn't exist. The most important thing is that you show up, be yourself and embrace unpolished content.
Pro tip: Always film Reels vertically. No fancy camera needed, your smartphone will work just fine.
4. Take the dive into IG Lives
Once you've got the hang of Reels – you're ready to do your first Instagram Live. Unlike Reels which are pre-recorded, Lives are, well… live! And because of this, they're a great way to show the humanness, personality, and authenticity of your choir's brand as well as the incredible people behind it.
Pro tip: Before diving into Lives, I highly recommend using Later's IG Live guide to learn the step-by-step process.
Instagram Lives are a great way to increase your discoverability and stay top of mind with your Instagram followers. Not only will your followers receive a notification when you go Live, your live broadcast will appear first in the lineup of IG Stories on the main feed with a special animated border around your profile photo, and the word "live" enticing followers to join.
Before you dive into Lives, there are three things you need to do:
1. Plan - Be sure to consider the following questions so you feel prepared and confident:
What's the topic of your Live?

Will you have guests? If so, who?

Will you invite the guest(s) to

join the broadcast live

or will you be solo?

What date and time will it take place?

Will you need to buy or borrow a tripod?

What do you want to talk about? Make a list of talking points to keep you on track.
Pro tip: When you invite a guest to join your Live broadcast and they accept, their followers will also receive a notification. This is a great way for you and your guests to reach new followers!
The image above, with the title Instagram Live Layouts, shows examples of what a Live broadcast looks like when done solo (left) vs when a guest joins the broadcast live (right).
Other things to consider to help your Live run smoothly:
Make sure there will be adequate lighting on your face

Put your phone in

Do Not Disturb

mode to prevent phone calls/interruptions

Wipe the front (selfie side) lens of your camera to remove any smudges

Make sure you're seated somewhere comfortable

Make a plan for what you'll do if your broadcast is interrupted
2. Practice - Don't worry, you can practice privately before going public. Set aside some time to practice and get comfortable. Use your talking points to see if there's anything you might be missing.
3. Promote - You want people to watch your Live, so don't forget to promote it. I recommend creating a static feed post two to three days in advance with some details on what the Live is about, and a clear CTA.
If your Live is for a BIG announcement, share the feed post at least one to two weeks in advance so you can create some excitement, and share some teasers as you count down the days.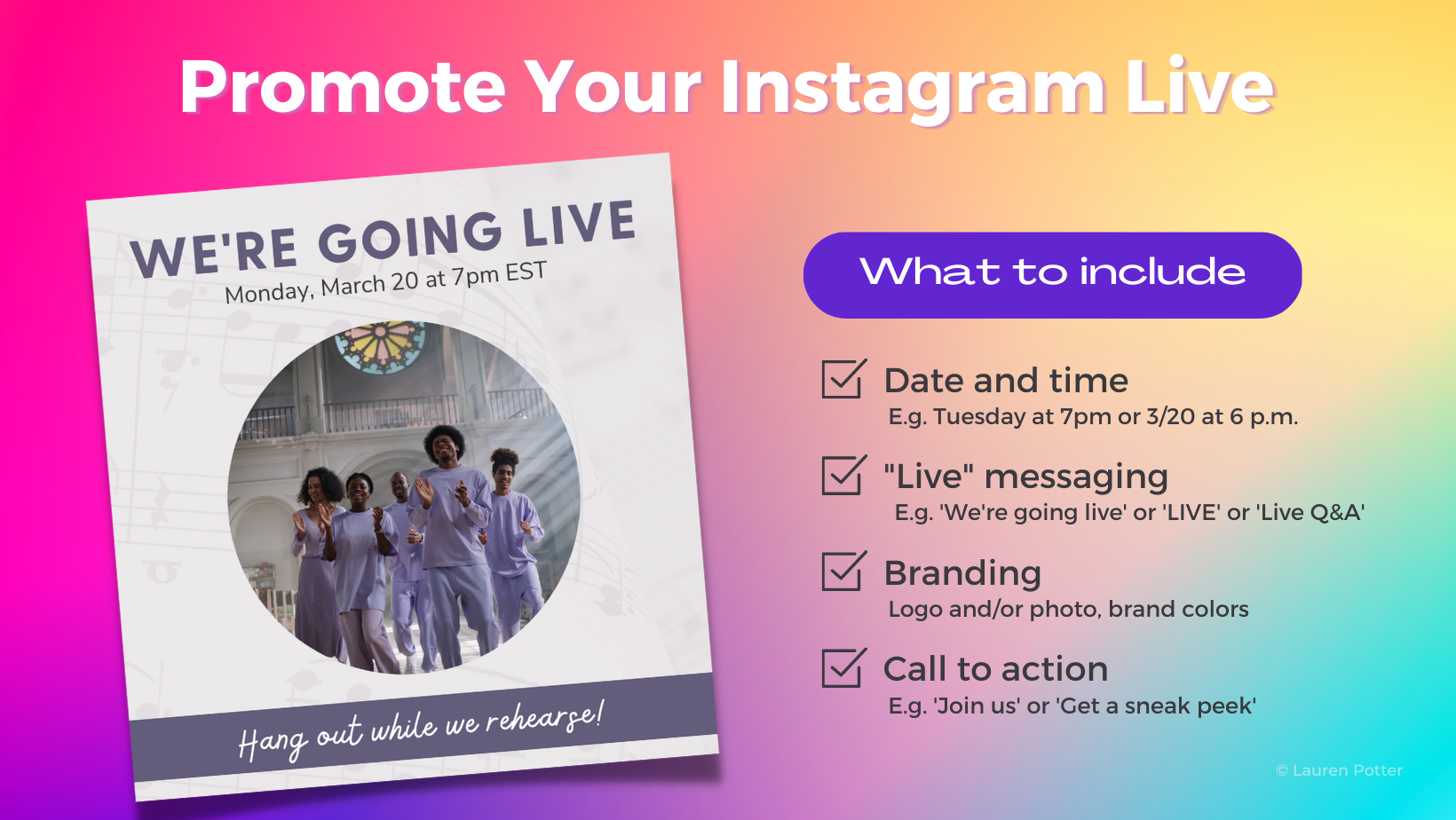 Share the feed post to your Stories, and add a countdown sticker with the date and time of your upcoming Live so your followers can set a reminder.
I recommend scheduling your Live, which is something you can do up to 90 days in advance. This saves you from having to create a separate countdown sticker, and gives your followers the ability to set a reminder. It will also give you time to build some buzz and excitement – especially if it's a big announcement!
How can you use IG Live for your chorus? Here are some ideas:
Promote an upcoming concert program -

i

nvite a singer to go Live with the artistic director or a board member (someone who's comfortable on camera) to discuss the upcoming concert program – its inspiration, the music, and/or what the audience can expect.

Make an exciting announcement -

You'll definitely want to share a teaser or two beforehand! An example might be a new end-of-year fundraising campaign, a new recording or an exciting collaboration. In the case of the latter, you could go Live with the collaborator to chat about the impetus of the collaboration, why it's important/unique and what you're excited about.

Host a Q&A -

Connect with your audience using a Q&A-style interview in which your singer(s), conductor, composer, or guest artists answer audience-submitted questions that are sourced and vetted beforehand. A few days before going Live, share an IG Story with the "Question" sticker, inviting followers to submit questions – this could be about a specific topic or an "ask us anything" format. Curate questions and promote the Live with a feed post that invites your followers to submit questions to your story mentioned above.
It would also be beneficial to create a feed post to promote this with the verbiage "Live Q&A". In the caption, you could include a CTA such as "Send us a DM with your questions! We'll do our best to answer them live."
5. Connect your Instagram and Facebook for easy sharing
Want to save time… and sanity? Connect your Instagram and your Facebook accounts.
This simple action will allow you to seamlessly share content to both platforms at the same time, also known as crossposting. This low-hanging fruit can help increase efficiency, and also relieve a little stress.
Rather than posting to Instagram and then going to Facebook separately to post the same content, you can do it all in one click. And it works the other way around, too — post to Facebook and automatically share to Instagram.
If you haven't already, check out Instagram's guide to connecting your 'Gram to your Facebook. If you're one of the fortunate organizations that happens to have the time and budget to run paid ads, it's important to make sure both social platforms are connected.
Keep in mind, there may be instances when you don't want to share the exact same content on both platforms at the same time. For example, maybe your Facebook followers are more active in the evenings, and your Instagram followers are more active during the morning. Or perhaps you want to write a slightly different caption for Facebook. No problem. The good news is you're able to choose whether you want to crosspost on a case by case basis.
A word on crossposting content - some people will say not to share the same exact content on multiple platforms. However, I'm not one of those people. So, take this as my express consent to crosspost your heart out!
There are several reason why I take this stance:
Not all followers will follow you on both/all social media platforms
Not all followers are on both/all platforms
There's no guarantee that all followers will see all your posts on a given platform (if they didn't see it on Facebook, maybe they'll see it on Instagram)
Your followers want to support you, so chances are they're more than happy to see and/or engage with both posts
People use Instagram and Facebook differently; someone may be more likely to share your Instagram feed post to their Story than to share your Facebook post with a friend
Pro tip: Want to save even MORE time and sanity? Social media scheduling tools like Later, Hootsuite and SproutSocial allow you to post to multiple social media accounts at various times, all within one platform. If you have more than one social media profile, give it a thought.
Chorus marketer, I see you. You are doing a great job. And if you only implement one small change to optimize your Instagram, then high five. Small wins are big wins when you're juggling seven (more like twenty-seven!) balls.
Got more Instagram questions? Post them in the comments and I'll reply as soon as I can!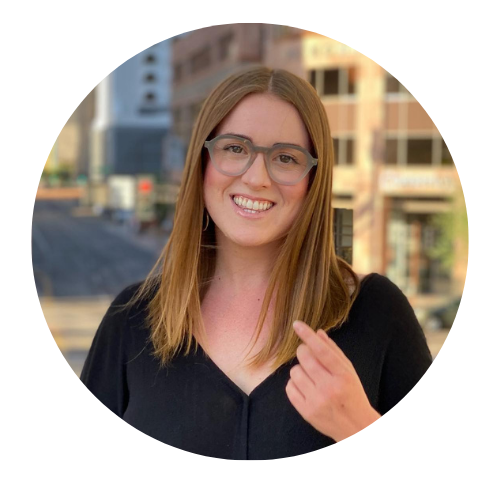 Lauren Potter is a digital marketing consultant specializing in storytelling through brand management, content strategy, and integrated campaigns. As a former vocal performance major, Lauren has had the opportunity to perform with several choral ensembles in Arizona. Her first experience working with nonprofit arts organizations was as an intern with the Grammy-winning Phoenix Chorale, where she then joined the staff and led the organization's patron services for nearly two years. To further her love of storytelling, Lauren ultimately graduated with a degree in journalism from ASU's Cronkite School, and has gone on to lead the social media and marketing efforts for organizations spanning the nonprofit, public, and private sectors including Helios: A Modern Renaissance, Artlink Phoenix, Downtown Phoenix Inc., and Self-Care Society to name a few. In her work as a consultant (www.laurenpotter.online), Lauren helps human-centered organizations engage audiences, galvanize communities and drive brand awareness through compelling content and solid strategy. When she's not serenading her two cats, Lauren can be found supporting the arts, eating tacos, and visiting family and friends in her homeland of Australia.