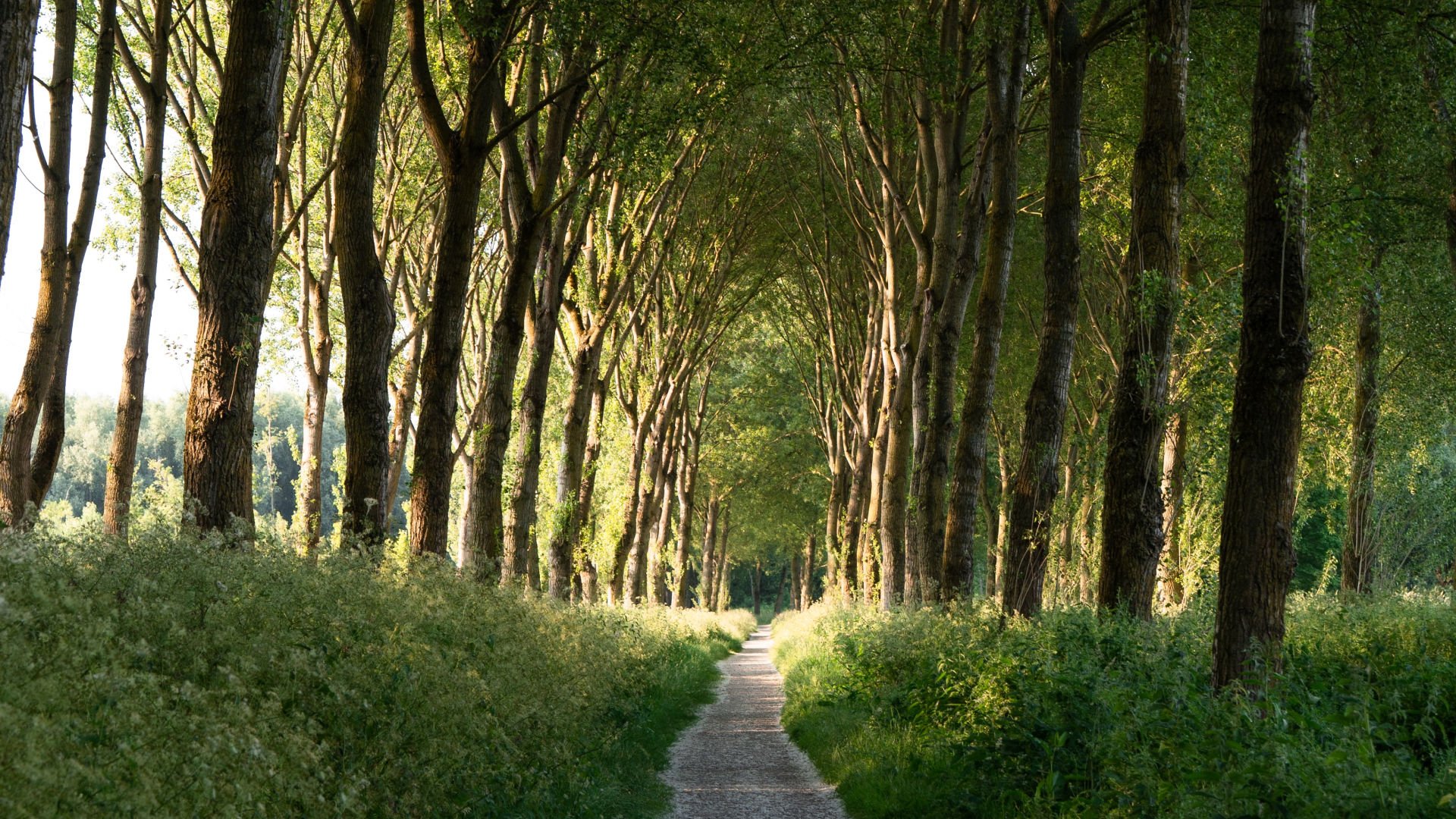 I have always maintained a love-hate relationship with planning. As somebody with ADHD, there are few things that I dread more than sitting down, focusing, and sketching out the minutiae of events and programs that seem so far off in the future. Even as a choral educator, I detested lesson plans, not in the sense that they couldn't be helpful, but because I took comfort in the ambiguity and spontaneity of where the class could go. To me, lesson plans had to be less of a firm structure, and more like "loose guidelines'' to which I could adhere to, but promptly depart from as needed.
However, the realistic nature of choral directing means that we have to develop a plan for the entirety of the new year or new season. Much like the ship captains of yore, without a map or the stars to guide the ship, it is almost impossible to maintain or chart the ultimate course of your program or ensemble. Planning ahead can be extremely beneficial and help circumvent challenges along the way.
For example, in any choral organization, it can be extremely challenging to recruit and retain singers or volunteers as well as acquire venues. Without the proper planning, especially over the long-term, venues may become booked or singers and volunteers may become unavailable due to scheduling conflicts. By giving enough notice, it allows you to set every stakeholder in your organization up for success. Long-term planning, though monotonous at times, can be incredibly beneficial. Even the directors who have invested in a crystal ball can encounter unforeseen surprises in the future. By scheduling far in advance, it allows you to adapt to these surprises and have enough time to adequately or properly address them. Not to mention that everything feels and becomes easier whilst in "the thick of it," because of proper planning.
Your singers will be extremely appreciative to have all of the important dates ahead of time. The extra time for fundraising and recruitment can lead to increased funds or a greater chance to recruit more singers. More time allows for more marketing, which allows for a better possibility of getting more attention to your organization. It just requires setting aside the disdain for the minutiae.
In an effort to combat the ever-growing conflict within myself over the dissonance I felt between hating and loving planning, I began to cultivate various tips and tricks to help make the process easier.
Most of these tips and tricks have been developed in relation to the start of a school year, but they are easily transferable to choral ensembles or programs in general. My hope is that in this list, which is by no means novel or fully comprehensive, lies a new idea or concept that can help you plan for your next season or concert year. So where do we start?
1. Begin with the Big Picture
It can be incredibly tempting to start with the closer, more-pressing, events that are, or should be, next on the "To-Do" list. But if we constantly focus on the micro, or the smaller details, we easily lose the emphasis on the macro, the larger picture, or we run into problems where the micro clashes within the macro. One of my favorite things to do is to take a bigger piece of blank paper and write out every month in which I was going to have an event, along with holidays or "time off" in those months. As a teacher, this typically meant beginning with the month of August, and writing out every single month until June, leaving plenty of room under each month, but including the dates for Spring Break or Winter Break.
Leaving room allows you to start placing the "big events" that you need to be mindful of. For me, that meant first thinking about concerts or performances. I tend to like writing out every big event in a list, crossing them out as I put them in their general month. Maybe I know that the Winter Concert goes in December, but I don't know the actual date. That's okay. I can get to the specifics when I fixate on the month of December. For draft purposes, it serves me best to just get a general sense of what absolutely has to start finding a place on the schedule, and then moving from there.
Once the "big events" are done, I start to think about the smaller important events, like when rehearsals will be, how many rehearsals I need to schedule, or how many rehearsals are between each concert. I also consider extra social-oriented events or non-rehearsal meetings with myriad potential focuses. I might not write out every single rehearsal, especially if they're at the same days/times each week, but maybe I'm making it a priority to have a monthly leadership meeting. Then, I would ensure that every month has at least one of those meetings.
I also try to think about one or two overarching goals or objectives for the year. This could be at the start of the planning process, or after I see what events I already have in mind for the year. These goals could be abstract, such as, "I would love for my singers to feel much more like a community this year" or "My choir is going to be more successful at implementing choreography." These goals could also be extremely specific, like, "I want to sell 25% more tickets to our Winter concert than last year," or "I would like to recruit 5 new members or volunteers."
Ensuring that your goals are realistic and measurable or observable is the best way to make sure they are met. For example, in the above situation about feeling more like a community, consider how you could measure if singers felt more like a community. In this specific case, it could mean asking singers how they felt and listening to what they had to say. Or it could be as simple as doing a quick survey for singers to respond to. Setting and measuring these goals is important, mostly because if you want to keep growing and progressing as an organization, you have to have a plan on how to do that.
2. Shift the Focus to the Micro
Once the variety of events have a general "home" in the year, it's time to start narrowing the scope to focus on each individual month. I should note here that while I am always a fan of using technology in every facet of my life, recently I have found myself extremely appreciative of pen and paper for scheduling. This came from a moment I experienced as an educator, placed in charge of proctoring a test. I was unable to use my technology, and the only means of distraction in the abandoned, uninhabited classroom was a giant, almost desk-sized pad of paper with a blank year-long calendar on it. There were approximately 200 sheets of blank calendar, and it was past time to start planning for the next year. Naturally, I borrowed one of the sheets, ignoring the test-takers' annoyed looks at the sound of the calendar being ripped out of the pad, and began my process.
After I had finished with the actions listed in Step 1, I used the giant calendar to help visualize what each month actually looked like, blocking off the holidays, weekends, or otherwise unavailable days. For each month, I inserted the big events followed by the smaller. If I ran into a problem or conflict within that month, I'd see if I could quickly rearrange the events to mitigate that conflict, or put them to the side with an asterisk, with the direction to figure it out later. The key to this was trying to get everything down on paper for the most part, and then polish out the last few details.
3. Take a Step Back
By the time I ironed out the last few details, I would typically feel myself to be extremely tired of staring at days, dates, and calendars in general. This is where it's good to take a break and try not to think about the calendar, which may or may not be in its final state. Taking a break is an essential part of the process, as "living in" the planning stage for too long can cause us to lose sight of something that we may have forgotten. For some people, a 15-30 minute break can suffice, for others, it may take a little bit longer to fully divest themselves from the process. Once you feel you've had enough time away from the calendar, it's time to get back to it.
4. The Macro Strikes Back
Now that you've done one passthrough of the macro and micro, return once more to the big picture. This is where you can determine if there are conflicts or problems that have arisen on the bigger scale with all of the micro elements filled in. These problems could vary, like not enough rehearsals before a concert, too many rehearsals, not enough social events, or other general timeline issues. This is your chance to address these things and see what kind of workarounds you can achieve.
5. Return of the Micro
By this point, you may very well be sick of planning or calendars. I get it. However, I think the second passthrough of the micro will help you catch any last mistakes, but it's also important to consider if all of your hopes and dreams for the year or season are feasible. Can the things you want to get done actually be done? Do you need a reality check or need to scale back? How will this schedule affect your mental health and work-life balance? Is there enough space or time for you in the schedule?
Too often, we are arbiters of sacrifice, abandoning our personal time spent with friends, loved ones, or even ourselves for the sake of the job. This can be a piece of the job description, but it doesn't have to be. As you go through the season, please ensure to schedule some time for your own personal calendar. Check to make sure that your personal schedule does not clash with your work schedule. Do not let them be the same schedule! This is an easy way to help protect vital work-life balance.
6. Digitize
As I said above, I thrive in the technological landscape. I am a proud nerd and take solace in the high-tech. However, if my plans remain in the analog form of pen and paper, I will almost certainly forget about events or important dates, as they are not in front of my face. And once things move out of my line of sight, I promptly forget about them.
This is where iCloud and the connected Apple environment saves me. Once I enter in an event in one calendar in Apple's Calendar app, whether it be on my iPhone, Macbook Pro, or iPad, that event is automatically shared across all my devices. This means that there's no chance for me to forget about the event or miss it, because I am much more likely to see it on at least one device. By creating a digital record, I'm also ensuring constant access and an easier time planning for the following next season, because I can easily look at previous calendars for comparison.
For those of you who have Chorus Connections subscriptions for your organization, the Calendar (https://www.chorusconnection.com/calendar) is a great place to post events so that they are not only in your calendar, but they can also instantly be available for the rest of your organization as well.
7. Finalize in Analog
This may seem redundant after the digitization, but I always like to create a "Year at a Glance" calendar for my singers. I try to squeeze every major event onto one page and print them off for each singer to have one. This ensures that every singer has access to every performance date, location, and time (if not TBA). Having this ready at the beginning of the season is critical to the choir as a whole. I will usually try and limit the usage of color on this to preserve legibility and keep it simple. I always like to bold the major events and leave normal events unbolded, to assist the singers in quickly seeing what was most important. Below, you will see a picture of one of the versions of the "Year at a Glance" that I've used in the past for a school year.
While I am a big fan of this format, it became tougher to fit everything on one page as I added more activities. If this is a problem that you run into, I suggest trying to use two columns on one page, if possible, instead of moving to two pages. Once you've figured out your format and have it ready to go, send it out to your singers and take a deep breath. Congratulations! You did it!
Planning for your next year or season can be stressful and cumbersome. This is the best process to ensure I don't miss anything and can prepare in a way that works for me. Figuring out whatever process works for you is important. It may differ from or look very similar to my process. This is a subjective art. The most important thing is taking the time to do it right so that you and your singers can have a successful season, and not get lost in the sea of time.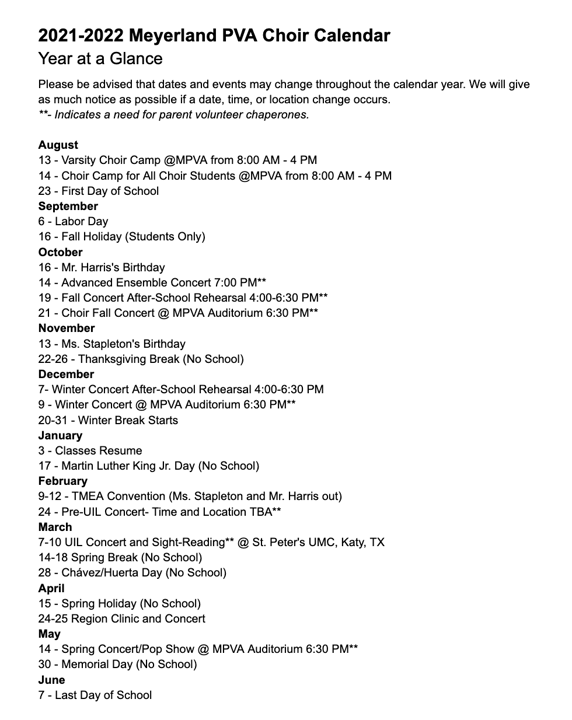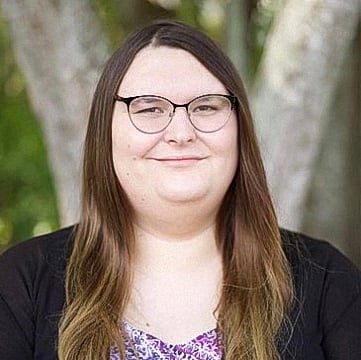 Melanie Stapleton is a music educator, researcher, author, and choral director currently located in the greater Houston area. She is the founder of Blurring the Binary, and holds a Masters of Music Education from the University of North Texas, and a Bachelors of Music Education from Louisiana State University. She is a strong believer that the choral ensemble should be a musical family and a safe place offering unconditional love for all. When not teaching, she can be found hanging with her Golden Retriever, Queso, playing video games, or jamming to the latest choral hits.