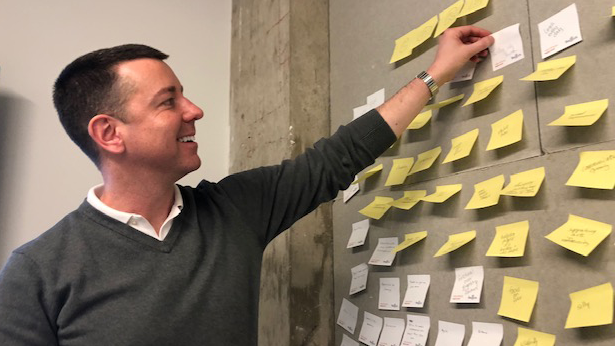 Chorus Connection was coming into its fifth year of existence when we decided it was time for a brand revitalization.
Why the change? It's pretty simple actually: over the course of five years, we had changed. Our team had grown from one to four and our customer base was growing rapidly. Our product was evolving and our long-term roadmap was coming more into focus. It became evident to us that our mission needed a bit of tweaking to match who we had become.
So, on a cold day in February 2018, we hunkered down in a conference room in the middle of Manhattan for a solid five hours revisiting who we are, who we wanted to be, and our company values.
It occurred to me at that time that outlining this process may be beneficial for choruses looking to rebrand. And I'm finally writing this blog for you! Feel free to use this process as a guideline for your choruses when you need to revamp your brand, mission, vision, and/or core values.
About the Process
This was a marketing-led process. Marketing developed the strategy, plan, and schedule for the brand meeting. We created the presentation in advance and gathered materials for the event.
The presentation was split into two sessions, one in the morning and one in the afternoon, with interactive exercises scattered throughout.
Materials:
Dry-erase board, markers, and erasers
Laptop computer, projector, speakers, and connections
Post-its - a LOT of them
Writing utensils - markers, pens, and pencils
Schedule
10:45am: Briefing with Goals
11am-1pm: Brand 101 & Brainstorming
1:00pm-2:30pm: Lunch Out
2:30pm-4:30pm: Crafting the Statements
4:30pm-5:00pm Debrief
The following will outline the presentation and exercises we did together as a group.
What is a Brand?
A brand is not your product, your logo, your website, or your name. Your brand is much more than that -- it's the stuff that feels intangible." - some brilliant person at HubSpot
A Brand is the Consumer's Perception
To make this point, I showed the Apple logo to my colleagues. I asked them "when you see the Apple logo, what do you think of? Shout out a few answers."
In my Powerpoint, I had already jotted down a few hidden answers hoping that my answers would match my colleagues' answers. (For reference, my hidden answers were: Apple, innovative, sleek, high-tech, user-centric, think different, functional, techie.)
The very first word yelled out was a match: innovative.
Did I plan this ahead of time with a colleague? Was I just lucky?
Nope. The truth is, Apple has such an amazing and cohesive brand that each buyer's perception of the company matches how others perceive the company. This perception IS their brand.
Apple didn't have to list out these words for their audience to understand what their brand was. Instead, they've influenced that perception through their marketing and product development. They tell stories that get their buyers to believe a certain thing about the company, but they also develop products that help align to to their customers' perception.
Here's an Apple video that gives an example of how they clearly want to shape their brand which I also showed:
TAKEAWAY: It's important to know what we want the perception to be - and clearly communicate that messaging across all channels so that the brand is perceived similarly with all people.
A Brand Reflects the Company's Values
Millennials, like myself, have really changed the market. (Damn, millennials! *shakes fist*)
It turns out that millennials really care about what a company values. We want to support companies that reflect our values and we even go as far as to boycott companies that don't.
It's important to note that while millennials may have kicked off this trend, it's becoming true of all generations - most consumers now care if companies values align with their own personal values before making purchases.
So it's becoming more important for a company (or chorus) to build their core values directly into their brand and culture.
I used Google as an example for this slide. I pulled these three things from the core values page on their website: "focus on the user," "do one thing really well," and "fast is better than slow." If you think about Google, their brand sort of just matches their core values doesn't it?
TAKEAWAY: It's important to collectively know what we value and to wrap up our company values into our external branding.
A Brand Tells the Company's Story
Many organizations fall into the trap of explaining what they do instead of telling the story of who they are and why they do what they do.
If you think about what AirBNB does, you'd probably say something along the lines of "they help homeowners rent out their homes and provide hotel alternatives to travelers."
But that's not a story, not a good one anyway. The real story comes when asking why they do what they do.
In 2014, AirBNB rebranded themselves to tell a more compelling story - one with a higher purpose: "Belong anywhere."
This video makes it clear what the company does, but you feel more connected to this version of the story, don't you?
TAKEAWAY: All brands tell the story of their company and their purpose. Smart companies know how to tell a story with a higher purpose that draws on the emotional human response. This is what resonates with consumers.
What do we Need From Our Brand?
Now that the team had a pretty solid understanding of a brand, I explained what we as a company should be looking to do with our brand.
Highlight our company values (both internally and externally)
Clearly tell our story
Differentiate ourselves from our competitors
Resonate and emotionally connect with our target audience
Confirm credibility
Build loyalty to our customers
Build a timeless brand with flexibility for change
Some of the challenges we wanted to overcome:
We had a really good understanding of what our brand was internally, but we wanted to improve on communicating that externally so that our audiences perception of our brand matched ours.
Making sure we had consistent brand messaging from all employees and across all marketing channels - making sure we could all verbalize our brand.
Selling our values and not our product.
Identifying the higher purpose.
Brainstorming to Build Our Core Values, Mission, and Vision
After the brief presentation above, we dug right into group exercises.
Core Values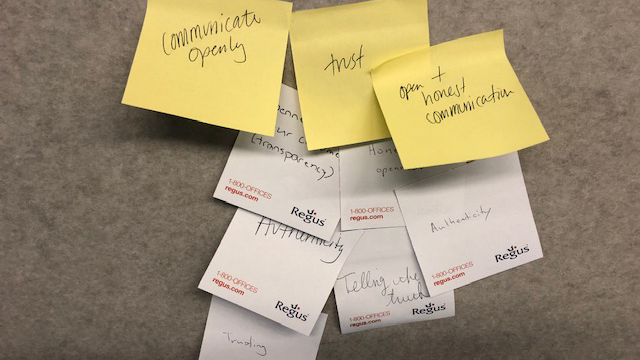 (Note: feel free to replace "company" with "chorus" for your own use!)
Exercise #1: Take 10 minutes to individually brainstorm the following. Write out each individual thought on a post-it:
What is important at our company?
What is unique about working here?
Why do you wake up and go to work every day?
What do we collectively believe in?
What do we want our company culture to look like?
Why would someone work here or want to work with us?
After the 10 minutes were up, we got up individually and read out our post-it ideas and stuck them to the wall.
After all of us had done that, we took time together to group the post-its into themes. For example, "fun," "silly," and "laughter" post-its were group together into one theme and "listening," "empathy," and "understanding" were grouped into another theme. We left the post-its on the wall while we continued with our presentation.
Finding the Higher Purpose
After exercise #1, we went back to the presentation to learn more about missions.
Because a mission is very "higher purpose-y" (yea, that's a word I just made up), I felt it was important for the team to see examples of how companies tell their higher purpose stories really well.
We watched each video below and discussed the messaging behind each one:
Nike - encourage people to take the fairness and respect they see in sports and translate that off the field.
Always - on a mission to encourage girls everywhere to embrace failure as fuel to build confidence.
Google Earth - explore the far reaches of the world right in your browser; the whole world in your hands.
We then discussed commonalities in the videos. Here's what we found:
Gives you all the feels. There is a direct appeal to the consumer's emotions.
Mission-oriented, not focused on the company logo, name, or product.
Tells personal stories. Helps humanize the company by showcasing individuals in the videos.
Our Mission
Now it was our turn to start thinking through the higher purpose of our mission.
Exercise #2: Take 10 minutes to individually brainstorm the following. Write out each individual thought on a post-it.
What does Chorus Connection do?
Who are we now?
What do we help customers with? What do they expect from us?
How do we differentiate from our competitors?
What is our higher purpose?
What is the value we are able to consistently deliver?
We followed the same process as in exercise #1: we each read our answers aloud and stuck them to a separate area of the wall. Then, we organized into themes and left them on the wall.
Our Vision
I briefly explained the purpose of a vision. It's not where we are now but where we want to be in the future and a vision is something that can be both inspirational and aspirational.
Exercise #3: Take 10 minutes to individually brainstorm the following. Write out each individual thought on a post-it.
What does [the organization] look like in 10 years?
Who do we want to be?
What do we want to achieve?
What do we want to be perceived as?
Again, we read aloud each post-it, stuck to another separate area of the wall, and grouped the post-its into themes.
At this point, the wall was looking like a real hot mess and we needed to break for lunch. When you lead this exercise with your chorus, it's super crucial to build in food not only for sustenance but also for time together to bond. It makes this entire experience a lot more enjoyable, I promise!
After lunch, we came back to a room full of post-its. We took pictures of all the post-its for future reference before we started our new exercises which would help us formalize our values, vision, and mission statements.
Crafting the Core Values
We looked at the post-its from exercise #1 and decided to lay out our 1-10 core values together. For every theme that emerged from our post-it groupings, we asked ourselves these questions:
Will we still believe this in 5, 10, 20 years?
Is this something we are willing to hire on? Fire on?
Is this something we can apply to customer success, product development, human resources, and all other departments?
Do we feel comfortable that everything we do should reflect these values set forth?
If the theme met those requirements, then we kept it up on the wall. If it didn't we got rid of it.
What we were left with were the following themes which then became our values:
Passion
Fun
Empathy
Authenticity
Impact
Crafting the Mission Statement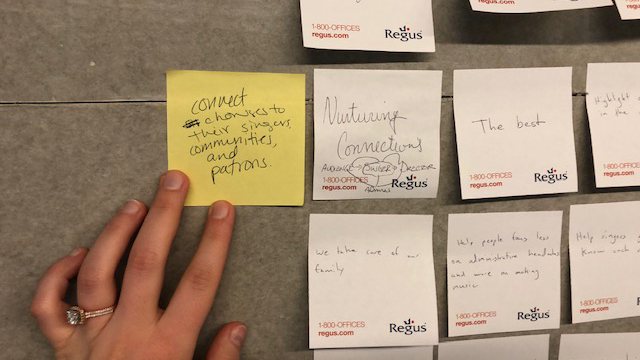 Then, we looked at the next area of the wall and the themes that had emerged.
No surprises here, but there was a pretty big theme around "connection".... as if Chorus Connection should be connecting choruses or something. ¯\_(ツ)_/¯
A few post-its on the wall within this theme:
"Nurturing connections"
"Global choral community"
"Connect choruses to their singers, communities and patrons"
"Bring people together"
"Connect people who might not otherwise connect"
Then, with the help of a whiteboard, we started to rewrite these thoughts into objective sentences. While doing this, we kept our core values as well as other themes that emerged on the walls in mind. Here are some objective sentences we came up with:
To connect choruses with their communities through simple, intuitive, and powerful technology making it easy for them to deliver beautiful choral music to the world.
To empower choruses to do their best music work through innovative technological solutions.
To connect choruses with their members, patrons, and communities, making it easy for them to deliver beautiful choral music to the world.
We documented all of these draft versions in a Google Doc.
Crafting the Vision Statement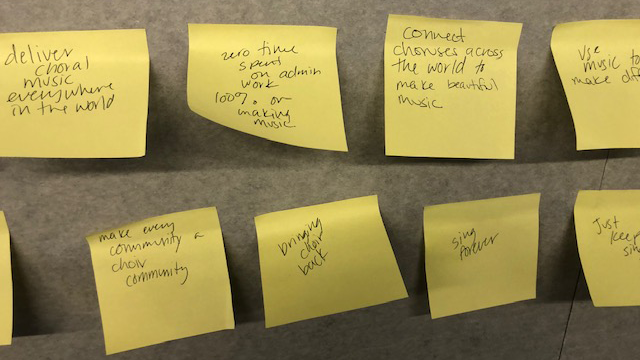 We followed a similar format to "crafting the mission statement" above. Here were some of the post-its we started with:
"Change the face of choral management as we know it"
"Bring choirs into the 21st century and beyond"
"Make every community a choir community"
"A world connected through choral music"
"Connect choruses across the world to make beautiful music"
Some themes that emerged:
Hub of choral world - a connected choral global community.
Revolutionize arts management.
Elevate choral arts to thrive for eternity.
Inspire compassion, empathy, humanity, and joy through music.
Some written objective statements we came up with:
To inspire compassion, empathy, humanity, and joy through music.
To revolutionize arts management as we know it, making it easier to connect the arts world than ever before.
To become the hub of the choral world connecting choruses from around the world.
To elevate the choral arts globally and inspire compassion, empathy, connection, and joy through music.
Once we documented everything in the Google Doc, we did a quick debrief of the day. And then we were off to our next group adventure!
Finalizing Everything
Once we all made it back home, we let this simmer for about a week. We sent around the Google Doc to the team for additional comments and thoughts. As we worked together on this, we highlighted the core values, mission statement, and vision statement that we felt best suited our brand
The final version is what you see on our website today!
Even today, we reflect back on this day in the conference room. It not only helped us identify who we are and where we are going but it was also a great team building exercise for us. We really had a blast doing it together!
Your Turn
If your chorus is in need of a rebrand or a brand discussion, please feel free to us this process and even download our presentation slides as a starting point. Be warned: there are adorably cute kittens in the presentation... don't ask.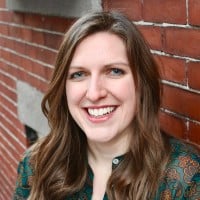 Tori Cook is the former Director of Sales & Marketing at Chorus Connection, an active board member of the Greater Boston Choral Consortium, and a soprano with the Tanglewood Festival Chorus. In a past life, she was the Music Director of the Harborlight Show Chorus and President of Chorus pro-Musica. When not making music, she daydreams about adopting a golden retriever puppy and scuba diving to exotic locations around the world.