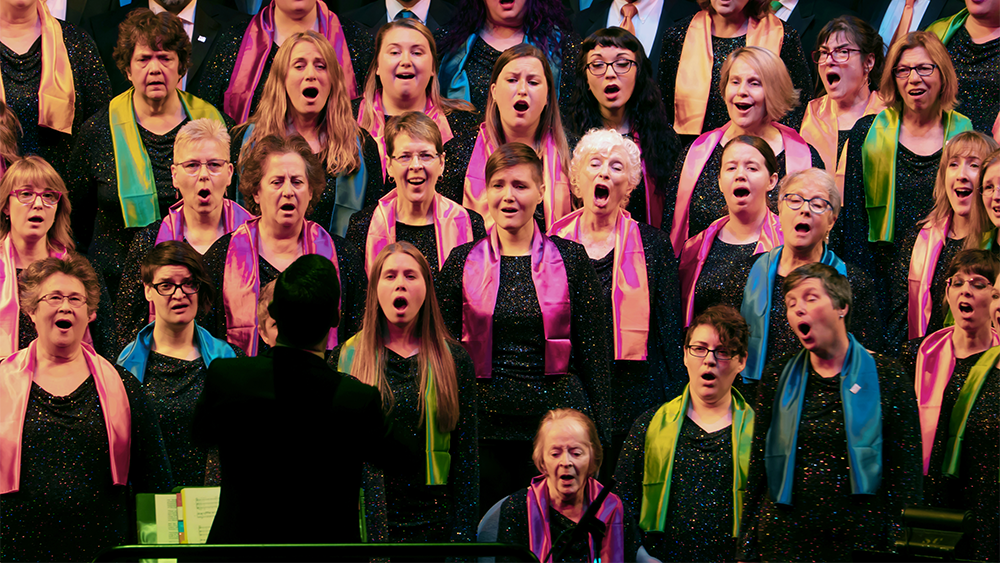 This week in Pride, we highlight a longtime Chorus Connection customer: Seattle Women's Chorus.
This chorus is no ordinary chorus. Their new mission reads, "Our voices transform society through innovative and entertaining programs that build community, illuminate the experiences of LGBTQ people and their allies, expand inclusion, and inspire justice."
And true to their promise, 165 singers did just that in their most recent fall concert entitled "Fired Up."
Get Fired Up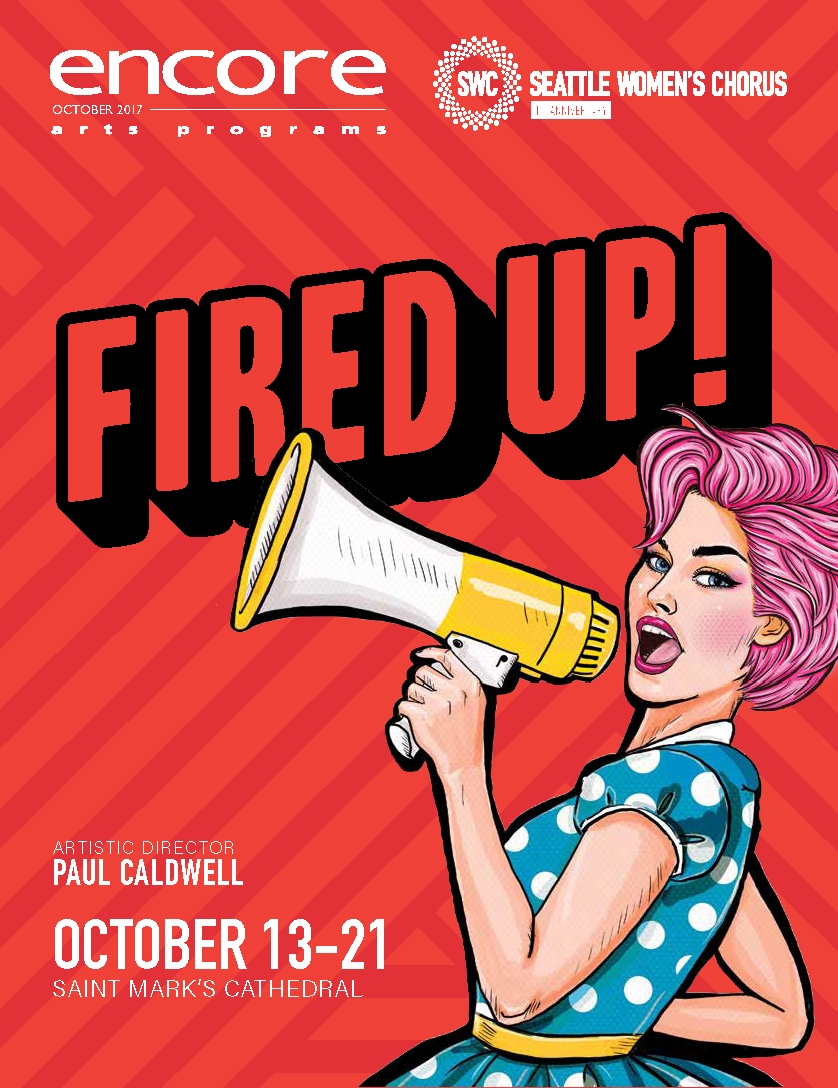 Having seen the impact of the women's movement all over the country, the chorus decided to use their annual fall concert to highlight important women artists who influenced the women's marches in songs of protest and strength.
Two women artists stood out: Milck and Isolde Fair.
Halie Looper, Director of Artistic Operations at Seattle Women's Chorus, calls Milck's song "Quiet" the "unofficial anthem of the women's march" after this viral video came out on January 20th, 2017:
The lyrics focus on the power in women to speak out. The official music video references a trans woman's story as well the story of a sexual assault victim. As one can imagine, this piece became even more meaningful after the #metoo movement came to light last summer. So, the chorus decided to perform their own arrangement of the piece after getting permission from the artist.
The chorus kicked off their program with "Quiet" followed by other works such as "This Land is Your Land," "Wake Me Up!" arranged by Deke Sharon, and "In Your Hands (Where Do Human Rights Begin?)" with words by Eleanor Roosevelt/Eric Bartlett and music by Abbie Betinis.
After intermission, the Northwest Girlchoir performed a series of songs on their own such as "We Shall Not Give Up the Fight," a South African freedom song, and "One Voice."
Then, something special happened: both choruses performed an arrangement of 15-year-old Isolde Fair's "To All the Little Girls."
For context, the lyrics to this song were taken directly from Hillary Clinton's concession speech and read as follows:
"And to all the little girls who are watching this, never doubt that you are valuable and powerful and deserving of every chance and opportunity in the world to pursue and achieve your own dreams."
Isolde, only 13 at the time of writing this song, felt that the song needed an extra verse so she actually composed her own lyrics inspired by Clinton's speech:
"Never change about who you are, invincible and confident. Leading to a deeper plan, possibilities coming true."
The Seattle Women's Chorus was so inspired by Isolde's music that they not only arranged her piece but flew her to Seattle to perform it live with the chorus. The chorus had anticipated performing this song on their own. But unexpectedly, during SWC's final rehearsal of the piece, the Northwest Girlchoir started singing along. This unplanned sing-along prompted Seattle Women's Chorus to add the Northwest Girlchoir on that piece for the concert.
"During the performance, the Northwest Girlchoir came down cathedral aisles singing and carrying protest signs from the march," Halie says. "It was a really powerful moment. We did five performances and the audience leapt to their feet every single time!"
Community Outreach & Impact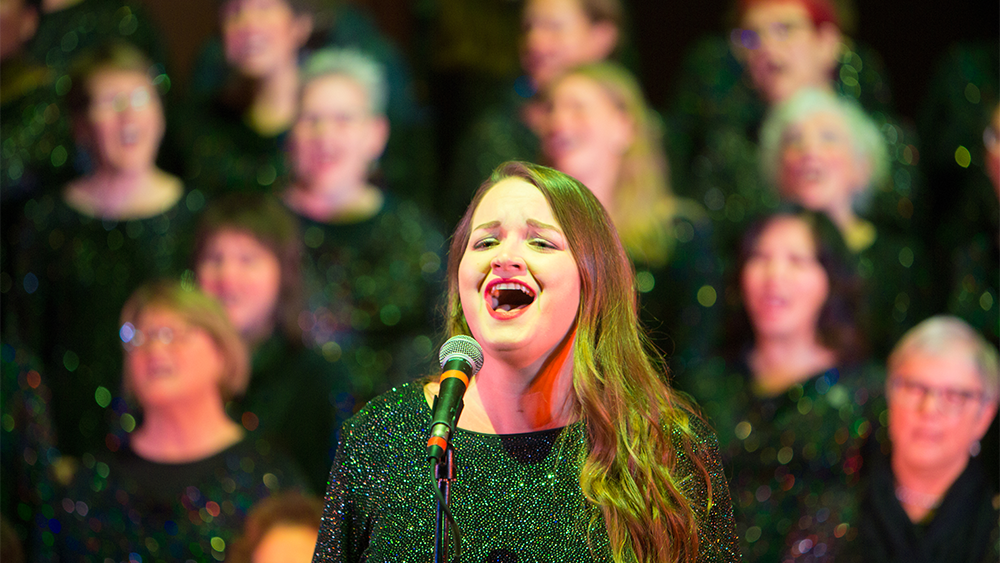 Outside of their inspiring performances, the Seattle Women's Chorus participates in a variety of community outreach projects. They partner with a local middle school for six weeks where SWC members volunteer to attend the choir class with the students. This allows the middle school students the opportunity to work with adult singers who help model good rehearsal and practice etiquette. At the end of the six weeks, the students perform together with SWC on stage at the opera house for an annual children's concert.
Last year, Seattle Women's Chorus also partnered with Women for Women International, an organization that helps address "the social and economic empowerment of marginalized women" across the world. At their concert, SWC raised $17,000 to support this organization!
The chorus's performances themselves leave a lasting impact on their audiences and community. Halie says, "Anytime queer people are visible and not 'othered,' it has an impact. There's always someone in the audience who hasn't seen [a queer] interaction and when they do, they realize it is very normal."
Next Up for SWC
Next up, Seattle Women's Chorus and Seattle Men's Chorus will partner with The Sisters of Perpetual Indulgence and Rainbow City Band to march in Seattle's Pride Parade. In the coming season, they will perform a song entitled "Quite Regularly Gay" featuring text from Gertrude Stein's "Miss Furr and Miss Skeene" which is believed to be the first piece of literature to openly reference the word "gay" throughout. And for their 15th-anniversary concert, they'll be performing their "Hear Me Roar" concert highlighting multiple decades of women's rock music.
To learn more about the Seattle Women's Chorus, visit their website, "like" them on Facebook, or follow them on Twitter.
Thank you to Halie Looper and the Seattle Women's Chorus for working on this piece with Chorus Connection!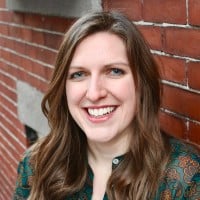 Tori Cook is the former Director of Sales & Marketing at Chorus Connection. She sings with the Tanglewood Festival Chorus and is a board member of the Greater Boston Choral Consortium. In a past life, she was the Music Director of the Harborlight Show Chorus and President of Chorus pro Musica in Boston. When not making music, she daydreams about adopting a golden retriever puppy and scuba diving to exotic locations around the world.