Happy holidays from Chorus Connection! Enjoy this sassy holiday jingle from our employee choir, "The ChoCo Puffs."
With ChoCo!
Oh, Excel is rather frightful,
But ChoCo is so delightful.
The directory has pics to show,
So those new members you'll finally know.
Make a riser chart by drag-and-dropping,
Practice music on the go; it's show-stoppin'
RSVPS will let you know,
How many tenors will actually show!
When it's time to rehearse each night,
Mark who's here on your phone with a tap.
And don't worry 'bout dues tonight,
Caus everyone's paid through the app!
The calendar is supplyin',
Dates and times, there's no denyin'.
And everyone's in the know!
With ChoCo, with ChoCo, with ChoCo.
Thanks for listening!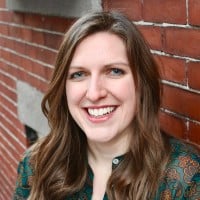 Tori Cook is the Director of Sales & Marketing at Chorus Connection. She is the former Music Director of the Harborlight Show Chorus, outgoing President of Chorus pro Musica, and sings with Tanglewood Festival Chorus in Boston. When not making music, she daydreams about adopting a golden retriever puppy and scuba diving to exotic locations around the world.