Let's face it, researching grants for choirs is literally THE worst. There is a ridiculous number of grants to sift through online, and after searching through seemingly thousands, you'll be lucky to find just one for which your chorus is actually eligible.
Unfortunately, there's no "community chorus grant database" out there… wouldn't that be nice? And so, as choir leaders, we are forced to spend countless hours of research to find the right grants for our chorus. In this article, I will help you narrow down the best-suited grants specifically for adult community choruses.
Are you ready? Let's dig in.
National Endowment for the Arts
The National Endowment for the Arts (NEA) has multiple grant opportunities for which community choruses can apply. NEA grants can be used for "projects" which include specific events or activities focusing on a variety of subjects such as creating art, delivering art to underserved populations, enriching local communities through art, and art research.
Funding amounts: $10,000 to $200,000
Deadlines: Various
Find out more: https://www.arts.gov/grants
Knight Foundation
The Knight Foundation supports four program areas: journalism, communities, technology, and (you guessed it) the arts! Preference is given to organizations who display artistic excellence, authenticity and inclusion, and technological innovation.
Funding amounts: Not listed
Deadlines: None; this is an ongoing application process
Find out more: http://www.knightfoundation.org/programs/arts
U.S. Bank Foundation
You might not expect a bank to be a primary supporter of music programs, but the U.S. Bank Foundation takes the cake for financially supporting a multitude of music programs across the country. Under their "work, home, play" programs, choruses fall under the "play" category which focuses on arts and culture. They specifically support community music programs for adults and children alike with equal opportunity and preference given to low or moderate income areas.
Funding amounts: Not listed
Deadlines: February 1 – March 15
Find out more: https://www.usbank.com/community/community-possible-grant-program.aspx
Wells Fargo Frank and Lydia Bergen Foundation
Falling in suit with the U.S. Bank Foundation, the Wells Fargo Bergen Foundation provides grants to 501(c)(3) classical music programs that perform for the purpose of educating the public in musical art forms. While it is technically not limited to geographical areas, preference is given to organizations that reside in New Jersey or New York.
Funding amounts: Up to $50,000
Deadline: July 15
Find out more: https://www.wellsfargo.com/private-foundations/bergen-foundation/
Arts MidWest Touring Fund
If your community chorus is planning a choir tour, see if you can offset the touring cost with the Arts MidWest Touring Fund. Your community chorus must be in Illinois, Indiana, Iowa, Michigan, Minnesota, North Dakota, Ohio, South Dakota, or Wisconsin and be a presenting organization touring between July 1, 2017 and June 30, 2018. The tour must include one public performance, one community engagement activity, and reach an underserved audience.
Funding amounts: Up to $4,000
Deadline: April 25
Find out more: https://www.artsmidwest.org/programs/paf
The Adolf Busch Award
Does your chorus use music to promote a civil and just society? If so, then you could be eligible for The Adolf Busch Award, whose sole purpose is to do just that.
Funding amount: $10,000
Deadline: June 30
Find out more: http://adolfbuschaward.org/
MAP Fund
Similarly, the MAP Fund sponsors performing arts projects that "question, disrupt, complicate, and challenge inherited notions of social and cultural hierarchy across the current American landscape." If you can make the case that your music and performance will do this, then this grant is for you.
Funding amounts: $10,000 to $45,000
Deadlines: October TBD
Find out more: https://mapfundblog.org
The Aaron Copland Fund for Music
For choruses that perform contemporary American music, The Aaron Copland Fund for Music could be a perfect fit. Check out their "Performance Program" grant option for more information.
Funding amounts: Not listed
Deadline: June 30
Find out more: https://grants.coplandfund.org/programs
The Amphion Foundation, Inc.
Following the theme of contemporary American music, The Amphion Foundation offers a grant for high-quality choral ensembles who commit to performing contemporary music. As their preference goes to professional choruses, community choruses must demonstrate a high artistic ability in order to be considered.
Funding amounts: $1,000 to $7,500
Deadline: April 1
Find out more: https://amphionfoundation.org/amphion-grant-application
UPDATE 12/3/18: The Amphion Foundation has updated their grant guidelines to include the following statement - "Performances of music by performers that include volunteer, community, or amateur musicians are not eligible for support, including any organization that may have been previously granted an exception to this policy. This includes choruses, except for childrens' choruses, because of the unique nature of music composed for and performed by children's choruses." We take this to mean that professional choruses and high-quality children's choruses may still be eligible. Please contact Amphion directly to inquire.
National Endowment for the Humanities
The National Endowment for the Humanities offers a variety of grant programs that focus on the excellence in humanities which include delivery of historical lessons and history's impact on society. What could portray humankind better than the arts?
If your chorus is doing a piece that focuses on a humanity theme such as Whitbourn's "Annelies" or Tippett's "A Child of Our Time" which - (shameless plug) my chorus, Chorus pro Musica, is currently performing! - I highly recommend checking out these grants to see if you can receive funding for your performance.
Creating Humanities Communities Deadline: February 15
Public Humanities Project Deadline: August 9
Funding amounts: Not listed
Find out more: https://www.neh.gov/grants
Barbershop Harmony Society Outreach Vision Grants
You do not have to be a "barbershopper" to apply for this grant! The Barbershop Harmony Society offers an Outreach Vision Grant that is open to any 501(c)3 organization interested in pursuing an a cappella-based project in the community.
Funding amounts: $500 to $20,000
Deadlines: February and September, depending on your project's implementation date
Find out more: http://www.barbershop.org/outreach/grants/
For more national, regional, and statewide grant opportunities, download our grants database for community choruses featuring over 1,000 grants! For tips on the grant application process, visit our blog "Best Practices: Community Chorus Grant Applications."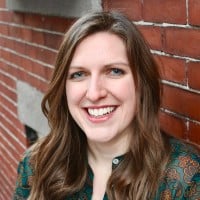 Tori Cook is the former Director of Sales & Marketing at Chorus Connection. She sings with the Tanglewood Festival Chorus and is a board member of the Greater Boston Choral Consortium. In a past life, she was the Music Director of the Harborlight Show Chorus and President of Chorus pro Musica in Boston. When not making music, she daydreams about adopting a golden retriever puppy and scuba diving to exotic locations around the world.