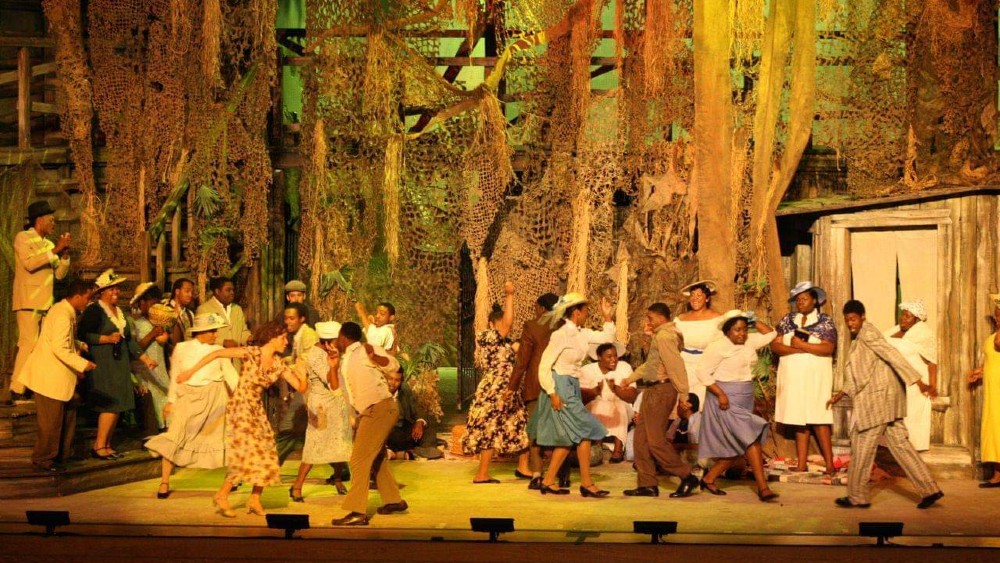 Photo: Porgy and Bess at Morgan State University Conducted by Julien Benichou, feat. Shana Oshiro as Clara
Continuing in our "Race on the Path to Choral Conducting" series, Shana Oshiro interviews Julien Benichou. Additional related articles can be found below and are recommended as precursory reading materials:
An Interview with Julien Benichou
Julien Benichou
Making his mark as a champion for the future of classical music, thanks to his commitment to new music and innovative programming; Julien Benichou is widely recognized for his inspiring musicality, incredibly infectious energy, and creatively fostering the next generation of musicians and audiences. Benichou is the Music Director of the Mid-Atlantic Symphony Orchestra (MSO), Chesapeake Youth Symphony Orchestra (CYSO), Southern Maryland Youth Symphony Orchestra (SMYOC), and the Principal Conductor of the Washington Opera Society (WOS).
As a guest conductor, Benichou has garnered high acclaim through his work with the New York City Ballet, Annapolis Symphony, Ballet Theatre of Maryland, Baltimore Concert Opera, and Baltimore Symphony Orchestra collaborations with Mobtown Modern Synchronicity. Abroad, he has conducted the Orquestra Sinfonica do Parana in Brazil, St. Petersburg State Symphony and Siberian State Symphony in Russia, and the Free State Symphony in South Africa. Benichou's success as a guest conductor has frequently led to return invitations. Next season he will return to the Siberian State Symphony and the Free State Symphony. Additionally, Benichou will return to Carnegie Hall for his 5th year in collaboration with Tim Janis and flutist James Galway.
Now entering his 16th season with the MSO, Benichou has dramatically raised the professional quality of the ensemble, as well as expanding the orchestra's season and donor base. Through his commitment to working in the community and ability to attract high profile artists, Benichou has developed one of the premier regional orchestras in the greater Baltimore/Washington area. His leadership of the MSO has led to collaborations with Stefan Jackiw, Virgil Boutellis-Taft, Kurt Nikkanen, Brandie Sutton, Vincent Beer-Demander, Leon Fleisher, Kevin Short, Arnaud Sussmann, and Tine Thing Helsen, to name a few.
Benichou has also found great success in conducting operatic productions, served by his keen attention to detail and an ability to bring forth a wealth of expression from singers. In his position as principal conductor of the Washington Opera Society, Benichou recently concluded a production of Carmen at the Maison Francaise in Washington, DC, featuring Lisa Chavez as Carmen and Jonathan Tetelman as Don Jose. Additionally, he has worked extensively with the Morgan State University Choir, leading a fully-staged performance of Gershwin's Porgy and Bess, featuring Baritone Lester Lynch and Soprano Leah Hawkins. Later with the same ensemble, he conducted the world premiere of James Lee's Mother's Lament.
SHANA
Julien, could you tell me about yourself and what brought you to this place in your career, especially with your connection to choral conducting.
JULIEN
I started as a Choral Director when I was a student at the conservatory of music, where I got my first music directorship while I was in undergrad. And learning choral conducting was a great way to get into conducting. And after I did a few years of directing for different choirs, I went to the U.S. to study and here, I focused on orchestral conducting.
SHANA
What was the race and gender breakdown in your educational path, especially among other conductors? And what has it been throughout your professional career?
JULIEN
You mean, like, of my colleagues?
SHANA
Yes. Your colleagues and anybody else who was working in that sphere around you, whether you were necessarily directly connected professionally or not.
JULIEN
I see. Well, when I was in France, it was French people. And in the conducting class, there were some women, but it was mostly men at first. And then in the later years, there started to be more women.
In my conducting classes in France, I would say that they were French people, but they were also some people from North Africa, some people from Italy. Then, when I was at Northwestern, there were again mostly men, but some women, some Black people, but mostly White... the majority was White male, but, there were all sorts of people along the way. Is that a good answer? I would say, majority White male, but that's not the only [group].
SHANA
And what do you think are the primary influences of race representation you've noticed in this career path?
JULIEN
Well, I would say that I take the example of my first conducting class in France. Wait, I'm trying to think… race representation... I don't really know if I have an explanation. For example, there is an African population in France. But why were they not represented very much?
I would say, because they were, for the most part at the time, recent immigrants who didn't necessarily have the financial means for their family to afford music education. And it's not even necessarily financial as it is just time. You know there is no music in public schools in France.
SHANA
Really?
JULIEN
No. So doing music, there is a sort of a privilege thing because we need time to take our child. Even though the music school is free, the public music school is free. It takes a lot of time to take your kids there. You know, it's not a simple matter. Also, I am sure that if you go in large metropolitan areas in front now, you would, of course, see a much higher representation of, for example, immigrants from Africa. But at the time, I was in small cities, that in the first place did not have many people of African descent. In my high school, there were maybe a few, but very few. You know, the school of music I went to as a teenager, maybe there were a couple of people from Africa, but very few. The main reason was that down there, there weren't many at all.
When I went to Paris to study, there were a few people of African descent, not many, but a few. And especially more Asian people there. And then when I came to the U.S., there was more of everybody — much more diverse in the U.S. than it was in France.
In France, it's not that easy to get exposed to music because there's no music in the public schools. I mean, literally, no music at all. So if somebody doesn't come from a background where their parents have been involved in music, or they've had any exposure to music — and that's not limited to immigrants —that would also concern underserved populations that have even been there for several generations.
It's just that if you don't have the cultural capital, how can you get interested in something that you have no idea about? If there are very few concerts around, if there's no exposure then nobody's going to get interested. I think that that's a big influence. But again, in a [small] city like where I went to the school of music, I don't remember there being a lot of people that came from Africa or anywhere else. Actually, that's pretty uniform in terms of what we call race.
Which I have to tell you during this interview, I have a hard time with the concept of race. I believe in it only in the fact that some people are oppressed because of the color of their skin or because of their origin. But outside of that, for me, it's a pretty vague concept, you know? Because, I can feel, absolutely, no connection to someone that would have the same background as me. And where I can feel a great connection to someone that's a completely different background in terms of physical appearance. And physical appearance is only relevant insofar as some people use it against others. Does that make sense?
SHANA
Yes, I think it does. The way you're describing how talking about race and even conceptualizing does make sense. Is it challenging for you?
JULIEN
Yeah, because, look, you know, I I did my DNA test, and I have everything in my background. I'm part Finnish, and part German and part Black/African and part Middle Eastern and part Italian… and which one am I? I don't know which one I should identify as — do I identify as a French or, who knows? But the fact is that some people are being oppressed on the basis of the color of their skin, and that's the real thing. And the bias I've experienced, or I've witnessed, I should say, against Black people... that's really real. Being in a music school and seeing an African American student and hearing the other students say, "Oh, she's here because of affirmative action," you know?
SHANA
Yes, definitely. I hear you and find it interesting. And you know what we talked about before, the way it sounds like in Europe and in France, the concept of the way people are identified as more ethnicity and nationality as opposed to the construct and framework of race. Which seems like it's a bit different. We constructed this concept in the United States and in North America, in general, compared to the way it's conceptualized in other parts of the world and so I can see where that's a difficult thing to shift.
JULIEN
Yeah, I mean, here's the thing. What I was taught in school was that the concept of race was just that. It's just the concept. There's no biological reality to it or, you know, it's not even a cultural reality to it. If the person is from Kenya, they're not any closer to someone from Ethiopia than to someone from England. It's really elusive.
I think it is only to me only relevant insofar as protecting people that are being marginalized, oppressed because of the way they look. If you say, somebody Black, for example. Well, somebody of African descent that grew up in Europe or I don't know that somebody of African descent but was born and raised in Portugal versus someone who is African American. What's the real connection outside of the color? They don't share the same culture, they don't share the same language. The only real connection is that both of them are going to be a victim of discrimination.
It's almost the way we were taught. The concept of race in school in France was that the concept of race was solely an instrument of racists. "Only racist people thought of race." Does that make sense for you because I know it's very different in the U.S. And when I came here, I was very shocked that I filled out the form and they asked for a race, and I was like, wait, what am I supposed to do because I wanted to put French, you know?
SHANA
Yes, I know that it's very different here in attitudes about acknowledging and discussing it. Especially in recent decades to recent months. It's just like it's always been part of an ongoing social conversation because that's the foundation upon which this country was built, which is different from the cultural and systemic foundations of nations like France.
And I wonder, the attitude that you're describing where it says, you know, only racists talk about race, is that still kind of the attitude there and is the same attitude shared by people of other ethnicities, nationalities, people from African countries who are in France?
JULIEN
It's not at all the attitude anymore. Okay, I would say that it does more copy the American model of thinking about race. So it's not like this anymore. It did have shortcomings in that it did not acknowledge common difficulties that people coming from other countries of different appearance experience. It is definitely not the same anymore.
But, with its own drawbacks. A lot of the identity politics end up having the same drawback... and how can I qualify it? You know what I mean? Far-right thinking, you know, like, White nationalist is also a form of identity politics in some way. And the trouble is finding the right balance between all these things.
Where is the truth? Is somebody really solely defined by the color of their skin? Is it the culture? Is the color of their skin a culture? If somebody is White, do they necessarily have that culture? The answer is obvious, right? It's just the color of their skin doesn't say anything about what language they speak. Or what's the culture and who they are? The person.
SHANA
Yeah, absolutely. It's sort of interesting even as this particular thing has been on my mind a lot as more of a personal thing. But, listening to when we're talking about race as this relatively arbitrary social construct, that is pretty much only a tool for oppression, and the idea of "the color of your skin," in which there's nothing about who you are or what your culture is or who your people are. And I've been recently more keenly aware of the way the color of your skin is kind of the go-to definition for what race is, particularly in this country.
And, you know, thinking of me, like in comparison to you, like your skin might actually be a little bit darker than mine. And I'm a Black woman, a woman with indigenous and African roots. The color of my skin is not the definition of my race, my culture, my ethnicity or anything that there is about me. So it just kind of goes to show, these are arbitrary identifiers and shallow tells that have something to do with where we fall in the social hierarchy and strata.
JULIEN
If I can just expand on that. The fact is that the problem is identity politics. Where they are on the left or on the right identity, in the end, is individual. It's not a group thing. If I think of Shana Oshiro, I'm not thinking "Black woman." I'm thinking Soprano, for example. You know, I'm thinking of you singing "Summertime" at the beginning of Porgy and Bess, and, to me, I identify you as a Soprano. If I tell my friends about you, I don't say, "Oh, yes, Shana Oshiro, the Black woman." No, I'll say, "Shana Oshiro, the Soprano." So for me, that's much more your identity than the color of your skin or the size of your haircut.
That is the way I see it in terms of identity. And I think what has to be combatted is the desire to exclude people on the basis of arbitrary considerations, such as, the color of their skin that they were born with. You know, if somebody doesn't sing well enough, then they cannot be cast. But they shouldn't not be cast because of the way they look or because of the color of their hair.
You know, the song by Bob Marley where it says that "there will always be war until the color of a man's skin is no more significant than the color of his eyes." I think that's very relevant. It becomes a sort of prison on both sides. It's like, what am I? Am I all of my ethnic background, or am I a conductor? To me, I am a conductor, or I'm a dad, or, you know, I'm a friend, or all of these things, but that's much more individual than group identity.
SHANA
Can you talk about your experience with racism in other parts of the world compared to the United States? And how have these experiences influenced you and your perspective?
JULIEN
Well, as a person of Jewish and North African descent from my father's side, I experienced racism as a child and into middle school. These were some of the most marking experiences, traumatic experiences in some ways. It's not like I was one of many kids that were different because of being in a little village, I was the only kid that was different. So it was hard.
I didn't grow up within any community of my peers because I was only half Jewish. From my father's side, there was no Jewish community around. There was no support. It was a completely isolated experience. So since then, I've always felt a lot of empathy when I spoke to people that are victims of discrimination or people that are very isolated by factors that are completely outside of their control.
And I've always seen it as racism — it is kind of the process of finding a soft target, somebody that's not necessarily going to be defended as well by society. Like in the U.S., a Black man being beaten up or shot by the police — or not even by the police, beaten up or shot — the assumption was that he had done something wrong. I saw this case where Jewish demonstrators were beaten up by a group. And the police asked, "what were you doing there?" You know, as if the victim is automatically attached to one group or another. And if something happens to them, we say, "Well, that's just the way things go." So that's what I mean by soft target.
And that soft target is going to be the victim of sometimes tragic aggressions. Such as being beaten up, murdered, or robbed. But sometimes more commonly, smaller aggressions of everyday life, like stereotyping, "you [x] people this," or "you [x people] that," and these are going to inflict really the most damage because they're going to inflict self-doubt into the person. And we can see that the problem is really that the self-doubt is very individual.
Again, as true identities, they are individual. And the individual has a hard time being even aware of their own self-doubt and seeing their trouble as being their own shortcoming. And then the thing perpetuates itself, because the self-doubt, makes it extremely complicated to develop any sort of personal discipline because the self-doubt is always saying, well, you know, what's the point, you're gonna fail? Because that's the messaging that's been received by the person. And not only by people that are ill-intentioned, but by people that would swear to God, that they are nowhere, nohow racist. But they still carry this stereotype about the people they encounter. And the message comes through even without any ill intention. Right?
So, hence the importance of the response in people that are victims of racist marginalization to realize that the only way out is through self-individuation to overcome that self-doubt.
And, of course, the best response from the community is to encourage self-individuation and explain to the members of the group and try to analyze the effect of this. They call it institutional racism, cultural racism, we can call it anything you want. But, it almost works on a subconscious level because people don't even realize that they carry it. And so the response is to help people realize their own self-worth and realizing their identities are individual.
So that's been for me, a very great subject of reflection. Especially as it comes to conducting, performance, but also more leadership positions at large and how they are complicated with people that we say belong to minority groups. We call them minority groups, but honestly, everybody belongs to minority groups. As a conductor, I'm in a minority group. You are a Soprano in a minority group. So let's call them minoritized instead of belonging to a minority group, because again, that's arbitrary classification, right?
But people that have been minoritized have this need to achieve self-individuation, to understand the process of the violence being inflicted, leading to self-doubt and and to having more difficulty in achieving their potential. So for me, this has been the subject of reflection.
I have to say that my experience as a child was certainly difficult. And it has also been the start of a reflection that I guess is never-ending. To think of the group to want to find the target to get rid of its own dysfunction of anxiety, which is very powerful, and to think of the group to want to be "homogenous" in its own context is so strong that rejecting any difference is very powerful. So, I would say it's ongoing work that has to be done, not only to help educate groups in the value of contrast, but also to help educate individuals in the value of overcoming that rejection and turn it into a victory or advantage.
SHANA
Kind of a psychological re-story, basically in what you're describing of self-individuation in order to overcome negative inputs and perceptions from the outside.
JULIEN
Yeah, I mean, there's a story with this Armenian father, who is dying. And he's telling his sons, "You've got to save the Jews! Save the Jews!" And then the sons are saying, " But Dad, we're not Jews, we're Armenians." And he says, "Yes, precisely. Once they're done with the Jews, they'll come for us." And so the moral of the story is that the crowd will always find a target.
We forget that the Holocaust was six million Jews. Yes, but it was [a total of] 17 million people that included not Jewish [people]. And [they] were targeted for different reasons. You may comfort yourself in the idea that you're not the target today. But you may be the target tomorrow. Tomorrow, the targets may be, I don't know — White plumbers. Nobody is immune to becoming the target of the crowd. Therefore, this is a reflection that concerns everyone because everyone can become the target.
SHANA
Lastly, would you tell me again about your work with the music department and voice students at Morgan State University?
JULIEN
I was really blessed to get to work with them a few times, especially in the production of Morgan that you and I worked on together. But also on James Lee's Mother's Lament. Yes for me, it was so interesting to work with Black students in America because of what we talked about — helping overcome that self-doubt that, as we said in our previous conversation, exists in performers to begin with, but is strongly marked in performers of "minoritized" groups.
There was that, and then there was the warmth of the community there, and how I felt immediately at home. In general, I have found great warmth in the African American music community. Just this amazing sense of connection. Something similar that can be found in the Jewish community — where the hostility of the outside world would create this warmth through the need of sticking close together on the inside. It's been an amazing musical experience that I got to work there.
Wrap-Up
Synthesizing Julien's reflections, his perspective, as a man of Jewish and North African descent who was born and raised in a small city in France and presents as White here in the United States, provides a broader view from the immediacy of how racism manifests in the context of America's structures and reality, reminding us that this social condition is incredibly impactful, yet it is entirely manufactured.
There are similarities in France, of course, to the infrastructures which perpetuate racial inequality we witness here in the States. Racial prejudices combined with the logistics of financial and social capital will present barriers to accessing experiences with classical music and the fundamental European theoretical frameworks taught in music schools at an early age for many of the families in France of African descent. And certainly while the historic and cultural contexts for Black people's living in France versus the United States are profoundly different, the dominating powers and often covert attitudes of White supremacy can produce everything from explicit hostility to microaggressions toward people of color, which, over a period of time, can badly corrode a person's sense of worth or innate capability.
Talking race with a French Jewish man whose experience with and concepts of identity wherein race doesn't hold the same meaning as mine, as a Black indigenous woman born in the United States, makes for a peculiarly muddy conversation. There's, of course, no question for either of us as to whether there could or should be more racial diversity of choral conductors or of any leadership role in what we experience as a society that centers Whiteness as the standard of normalcy or excellence.
What strikes my ear in this exchange, however, is the difference in perceiving and experiencing identity that I could see between us. The tension between seeing a person as an individual and what they do (Julien the conductor, or Shana the soprano), as opposed to an individualized product of their family, their culture, their ethnicity, their experiences, and their values doesn't necessarily require that they be mutually exclusive. But, as I believe to know of both myself and other BIPOC, there is more the tendency to conceptualize one's identity in connection with all of the latter elements I listed than solely as a sovereign agent.
When I hear from someone that when they see or think of me, they don't see me as a woman of color, I'm inclined to think they don't really see me. Those things that come from being Black, Metinnecock, a (cisgender) woman, are the container which holds and shapes my identity and thus my relationship with others and with music. This is not true only for me, but also for many other BIPOC, and those who are already in positions of leadership through choral conducting or may aspire to be — and are also aspects which hold and shape White individuals' identities and relationships to music, albeit often less in the foreground of their consciousness.
This Jungian theory of self-individuation is arguably an outgrowth of Eurocentric/patriarchal values which emphasize the individual expressions of identity over the connectedness of familial culture, which is more prevalent in indigenous cultures throughout the world. And yes, even as this is a highly simplified, dichotomized illustration of social constructs and worldviews — neither concept and none of the values or norms specific to any given culture is inherently more virtuous or correct than another. Yet inasmuch as the purpose of this and prior dialogues is to examine the implications of race and representation in the choral conducting world, if a person possesses an identity and relationship to others and to music making that does not conform to the individualist values which have been at least subconsciously imposed on the ideals and aspirations within the field — how can one imagine such a person wouldn't provide us with something new to the choral world as it exists? What could a variety of worldviews bring to this particular world of art? What could choral singing and leadership reimagined bring to the rest of the world?
These questions don't negate the salience of what marginalization and oppression does to the individual psyche. Even in my first interview with Roberta, she spoke to the challenges her BIPOC students often have in lighting up their own belly fire to propel them through the rigorous work and energy required to pursue a career in music, particularly in the classical world. Not to mention there is often a lot of catching up to do to absorb the fundamentals of European music theory — which are essentially the standards applied to all disciplines of music in higher education — when one's public school did not have the resources for enriching music education in their curriculum. I can say that I personally have never lacked the belly fire — but I, too, know full well how debilitating self-doubt can become, regardless of self-determination. So even with the muddy question of how BIPOC around the world could shape the choral world with greater emphasis and value placed on community and connectedness over the merits of the individual — add the conviction that all of that which exists in oneself is nothing short of a masterpiece, and that mud could be something magical.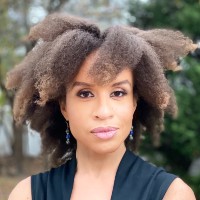 Shana Oshiro, is an alumna of Morgan State University with a BFA in Vocal Performance and a former Miss Maryland. She has appeared with Opera Philadelphia in productions of Porgy and Bess and Margaret Garner and made several appearances with the Baltimore Symphony Orchestra as a featured ensemble member, as well as multiple local orchestras and chorales in the DC Metropolitan area. Shana is also a board-certified music therapist with a Masters in Music Therapy from Shenandoah Conservatory. She has continued her performance career combining her interest in community music therapy to address racism in the United States with her barbershop quartet, HALO, and their collective community music therapy initiative with their program Race and #RealTalk — a program in which people are guided through the listening and singing experience of Barbershop music to help engage with one another in difficult conversations about our country's complex issues with race relations.