I have been fortunate in my career to meet and work with amazing people and organizations. Each experience has taught me important lessons, surprised me in different ways, and presented new challenges to overcome. Getting the opportunity to lead the Milwaukee Children's Choir taught me countless things and gave me the opportunity to grow into a better conductor, leader, and person.
To better understand the lessons learned and apply them to your individual situation, some context on the size and scope of Milwaukee Children's Choir (MCC) is necessary. MCC has had an illustrious 25-year history with 6 different after-school choirs and an in-school program to support Milwaukee Public Schools. The organization has multiple full-time office staff, both full and part-time artistic staff, and numerous volunteers. As the Executive Artistic Director, I directed the top two ensembles, the youngest ensemble, and ran the administrative end of operations. Although each chorus is unique, these lessons can be applied to any organization.
Share a Vision
In the bustle of planning a knockout concert series each year, it can be easy to forget to think about the big picture. As an Artistic or Executive Director, casting a vision and keeping the organization on track to achieve that vision is one of your biggest jobs. In the first year at a new organization, you are strategically positioned to see with fresh eyes what the chorus does well or poorly. You can learn where they have been and bring excitement with the idea of where they could go. Do not be led to believe that you should simply maintain the status quo just because you are new. Rather, work to honor the traditions that have been established but build towards higher goals. Work with your board on a strategic plan that is both realistic and optimistic. Ask every board and staff member, "Where do you want this chorus to be in 5 years?"
Surround Yourself with Good People
This seems like a simple and obvious lesson, but can be the single largest predictor of success. Superstar performers in any role of the organization can immediately relieve pressure, create trust and comfort, and raise the standard for all staff or volunteers. Even the smallest task can become a nightmare when tackled by the wrong person. Part of the solution to this problem obviously lies in making the correct hiring decisions or choices when looking for staff or volunteers. However, once chosen, workers need to feel properly trained and fully valued as a member of the team.
Communication is Key
In every interaction, communication is key. This advice is a constant in life and is heard in executive trainings, self-help books, or on Dr. Phil. Words matter, and the way they are delivered matters even more. In the modern world of instant communication such as text and email, it is more important than ever to be intentional about what is written and what tone is established. It will help determine if stakeholders buy into the vision you have cast for the organization. It will also determine if employees become the best versions of themselves and ensure that those good people stay with the organization for years to come. One challenge in good communication with children's choruses is that you may need to adopt multiple communication styles because of the broad range of people involved. Staff, board members, volunteers, donors, young students, and parents each have different needs and expectations from their director.
Managing Expectations
Setting standards and expectations is a vital part of being an educator. Particularly when dealing with young students, teaching the music is often equally as important as teaching them how to conduct themselves in a rehearsal or performance setting. Creating and strictly upholding expectations can be cumbersome and a bore, but will ultimately help the individual and the chorus.
On the other hand, setting musical goals and expectations can be a more delicate line to walk. In an attempt to make young singers into the best musicians possible, we can often create traditions such as repertoire standards that focus on classical music. We can also spend a lot of time focusing on music theory and sight singing. If the balance turns too much in this academic direction, we need to ask ourselves if we are missing the point. In the U.S., approximately 3.6 million students graduated from high school in 2019. Surveys show that less than 2% of them will major in music. To ensure the survival of our craft and passion, we need to be inclusive and focus on creating lifelong musicians in order to nurture a deep love of music. Without sacrificing musical standards, we need to manage musical expectations and motivate young singers through positive experiences so that they continue to participate in and support music throughout their lives.
It Is Not About You
Humility is not always the most present attribute in musicians that have gotten where they are based on talent and being better than someone else. However, conducting is not about you. I'll say it again for the people in the back, conducting is not about you. Whether we lead a children's chorus, a community ensemble, a high school program, or a collegiate program, we exist for our singers. Empower your ensemble to take ownership of their own performance. Soft leadership will not go unnoticed by your singers or your audience members.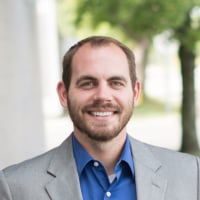 Erik Jacobson is the General Manager of VCM USA, the choral music foundation supporting the work of VOCES8. He directs the Kalamazoo Male Chorus and will soon begin work as the Executive Director of the Michigan School Vocal Music Association. Erik spent time as the Executive Artistic Director of Milwaukee Children's Choir and taught high school choir for five years.