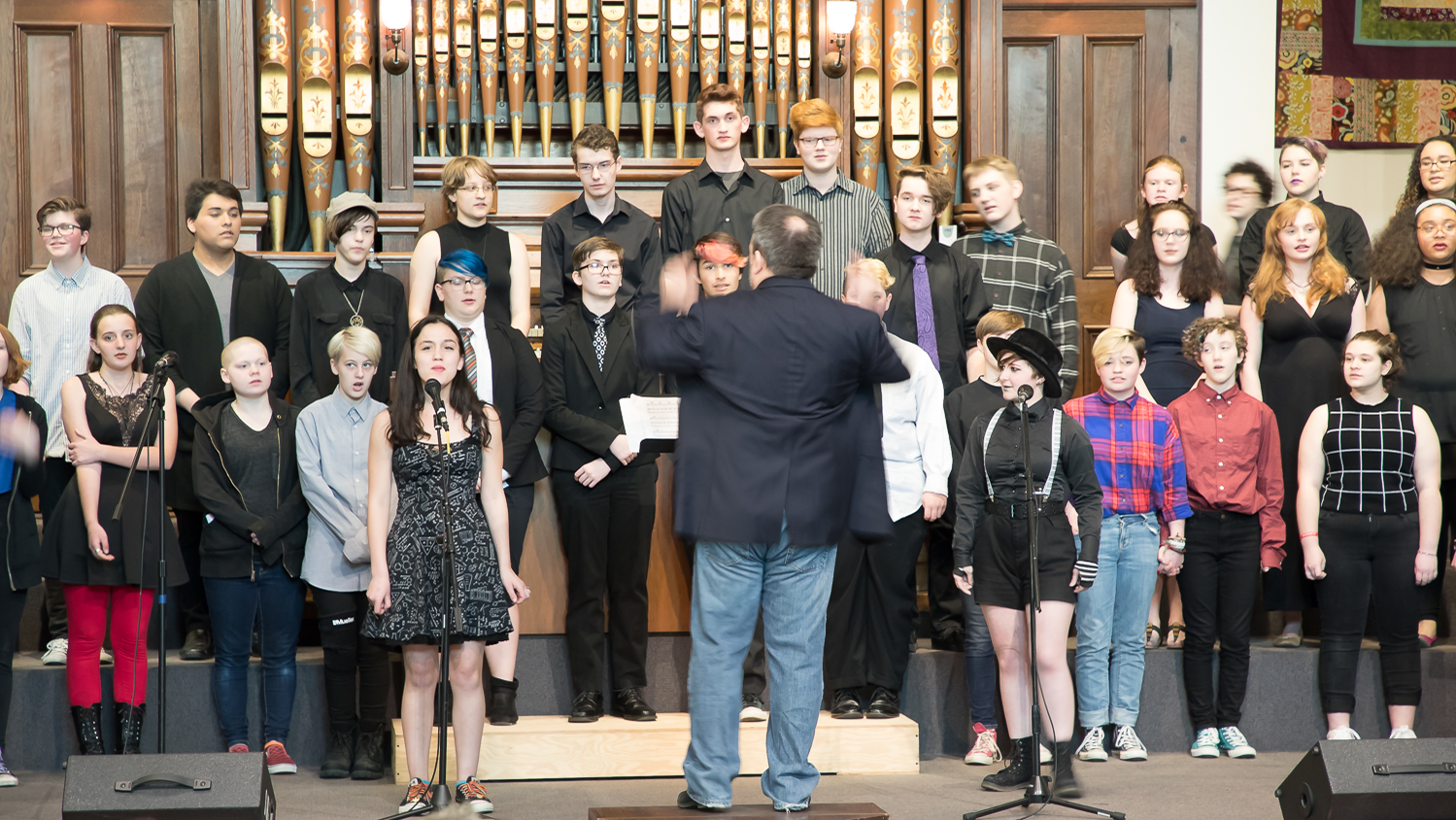 Bridging Voices is Portland's first Queer/Straight Alliance Youth Chorus and is one of the largest choruses of its kind in the nation. Now kicking off its sixth season, Bridging Voices is a non-audition 501(c)3 community organization, providing a safe, accessible place for youth ages 13-21 to experience empowerment and unity through music.
A core principle of the chorus's mission is to build bridges, not walls, and to break down the foundations of homophobia and transphobia through visibility and diversity. One way they achieve this mission is through collaborations with like-minded organizations and artists.
Collaborations Lead to Growth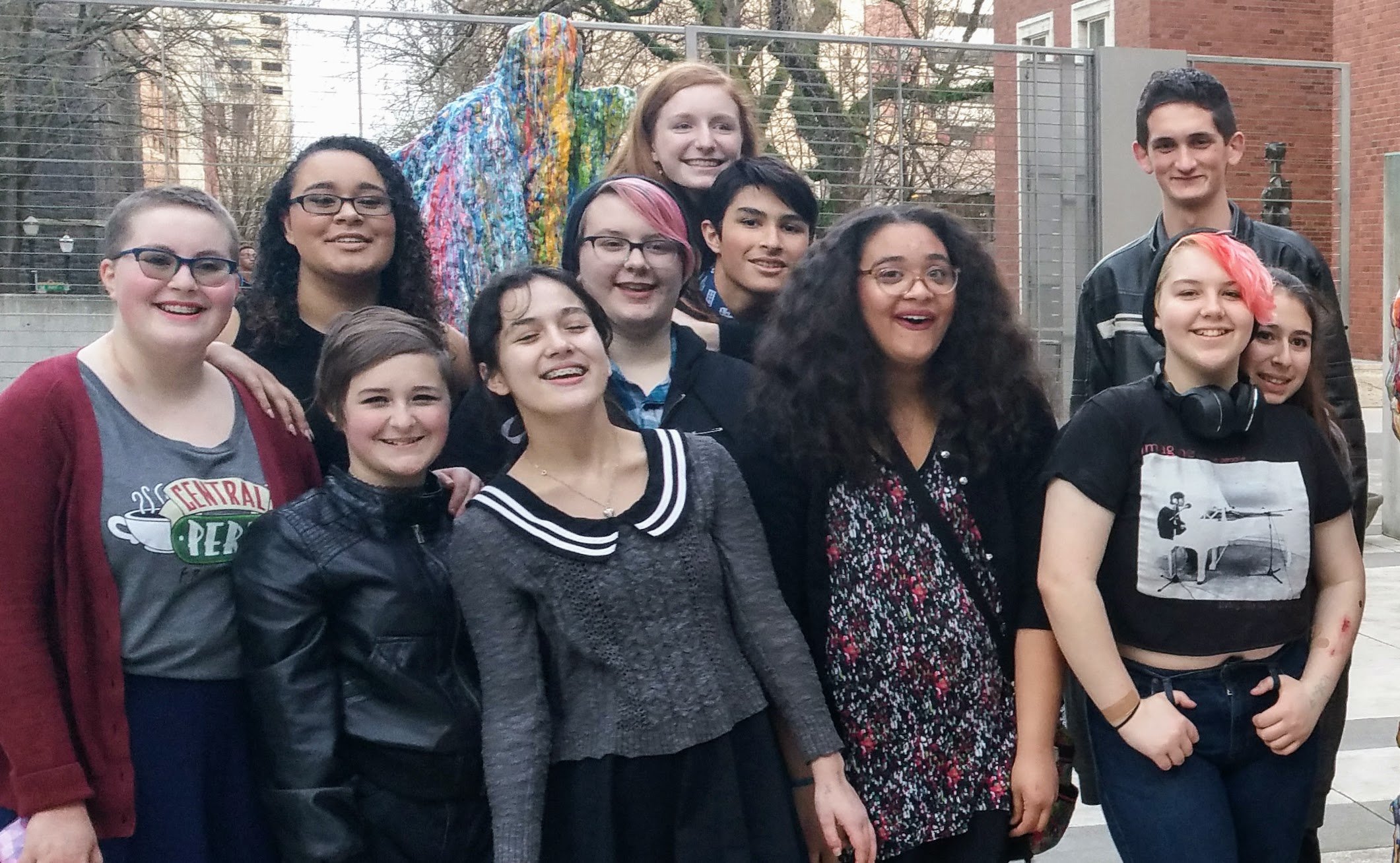 The chorus itself was founded through a collaboration. The seed was first planted by a fellow youth chorus, Seattle's Diverse Harmony. Their 2013 performance as guests of the Portland Gay Men's Chorus was also the launching pad for The Portland GSA Youth Chorus, now Bridging Voices.
When Erik Gullickson became Artistic Director of Bridging Voices in 2015, they had only 8 members. In order to accomplish an aggressive season of two self-produced concerts and ten outreach performances, the group's leadership set their sights on collaborating with high school and middle school GSA clubs to spread their message and grow the chorus. Along with the then Executive Director, they realized that some extensive membership outreach was necessary for growth.
Working with District Administrators, they put together presentation materials they could bring into the classrooms and invested in a compelling 5-minute video that highlighted members' stories.
They created "interest cards" which were handed out to interested students (as a means of collecting contact information) and created a promotional poster campaign for teachers and advisors. Whenever the chorus had a concert coming up, they would reach out to all middle and high schools, offering free tickets to all students and their friends.
"We would go into some of these schools, meet with the students, and we'd have 8-10 new singers at the next rehearsal" Erik says. "It was incredibly moving to see these young people find a place where they were fully welcome and able to meet new friends outside of their own daily experiences."
Of course, getting prospective singers in the door is just the first step – retention is the key, and for Bridging Voices it's all about singer engagement. "Staff regularly solicits input from the youth on programming and production," Erik says. "We now have an 8-member youth leadership team, who manage the library, plan social events, manage Chorus Connection, even a Production Assistant." These youth leaders also serve as section leaders and key contacts for the singers – a de facto peer network, developing their own leadership skills in the process. See them in this new promotional video!
After building these collaborations for three years, the chorus now boasts over 60 singing members, and they hope to grow to 75 active members by the year 2020!
Collaborations Give Singers New Experiences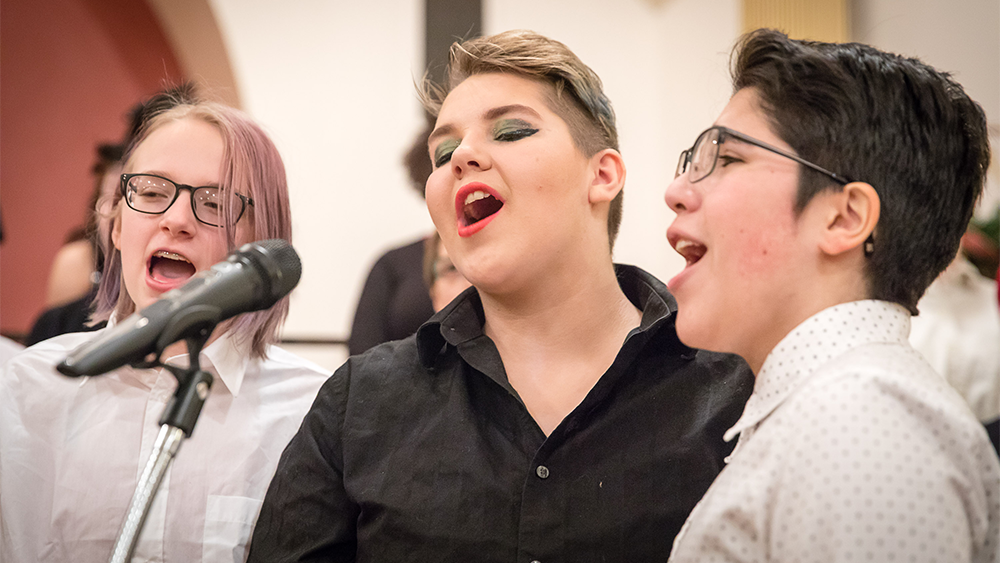 In 2015, Bridging Voices was not only starting their recruitment adventure, but they were also preparing for an exciting opportunity: bringing the chorus to the 2016 GALA Festival in Denver. The goal was to bring at least 15 singers to the festival and perform in the Youth Invasion Mainstage Concert.
Meanwhile, Matt Alber, a Portland-based musician and celebrity, was also preparing to attend GALA Festival...as a featured performer.
"I wanted to introduce the youth to professional musicians in our community, so that they could see it was an accessible thing - that it was something they could do, if they wanted to," Erik says. "A couple of months into rehearsals I was at a 'Friendsgiving' dinner, when the doorbell rang and in walked Matt Alber! We all got to talking about music, and Matt was really interested in the idea of an LGBTQ Youth Chorus. A couple of months later it worked out that he was able to come and visit a rehearsal. When he took out his guitar and started to play, the youth were absolutely mesmerized."
After meeting the chorus, Matt reached out to GALA Festival organizers and proposed that Bridging Voices join him on stage at the Denver Festival. "He really became part of the drive to bring the youth there. He came to rehearsals, taught them his song Monarch, coached our instrumentalists, even helped fundraise to ensure that every member who wanted to travel, could," Erik says. "Together, we raised over $21,000 which, when combined with matching funds from GALA Choruses, enabled us to bring not 15, but 26 youth to the festival, where our singers performed on five Mainstage Concerts."
This was just the beginning of a collaborative relationship Matt Alber, who has, as Erik says, "been a tireless champion and cheerleader of our organization. He's part of the team, part of the family."
Collaborating with local artists can help your ensemble really take off, bringing new experience and enthusiasm to your singers. Erik says, "My advice to starting a youth chorus is to build these relationships as early as possible. Connect with other local organizations, community leaders, performers, anyone who shares your mission and is passionate for your cause can be an invaluable advocate."
Check out Bridging Voices' first experience performing with Matt Alber at Gala Festival.
Collaborations Inspire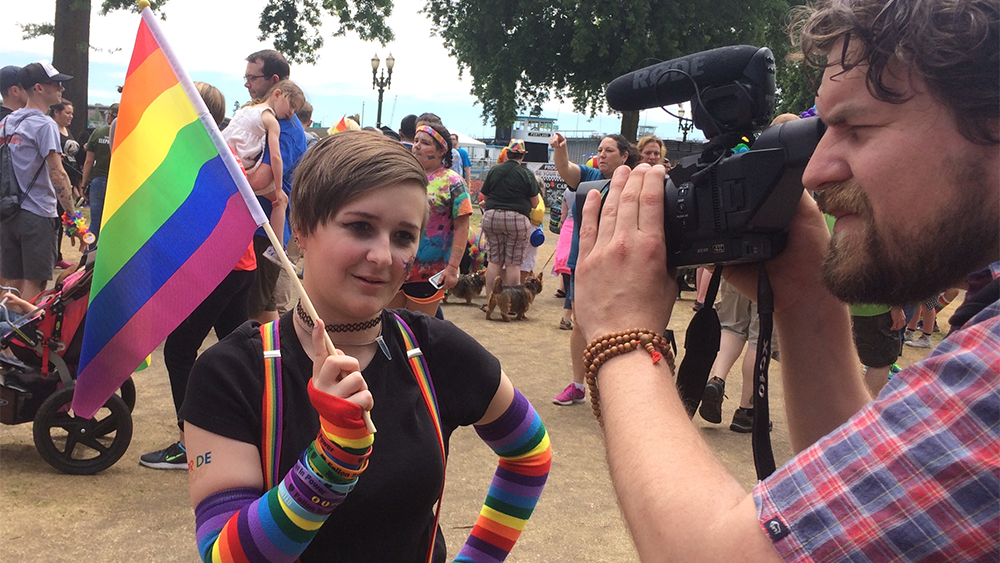 "About a year after GALA Festival, Matt and his producer friend, Jon Garcia, came up with this idea of profiling queer youth in a web TV series - the Room to Grow project - and he reached out to us to collaborate," Erik states. "They were inspired by Matt's work with the chorus, and had a vision of youth around the county, around the world, being able to see the stories of youth who have found support in their communities, in their families. They wanted to take footage, get to know the youth and their families, and discover what stories would unfold."
Erik continues, "We all got together with lawyers, hammered out the details of the collaboration, and developed project-specific release forms for all the singers." As the project progressed, the 'webisodes' transitioned into a full-length feature documentary about the singers' lives, their experiences as queer youth, being in Bridging Voices, and what it means for them to sing and be together. "We wanted to take this message of welcoming spaces, finding friends through music, putting on great fun concerts together and share it," Erik claims.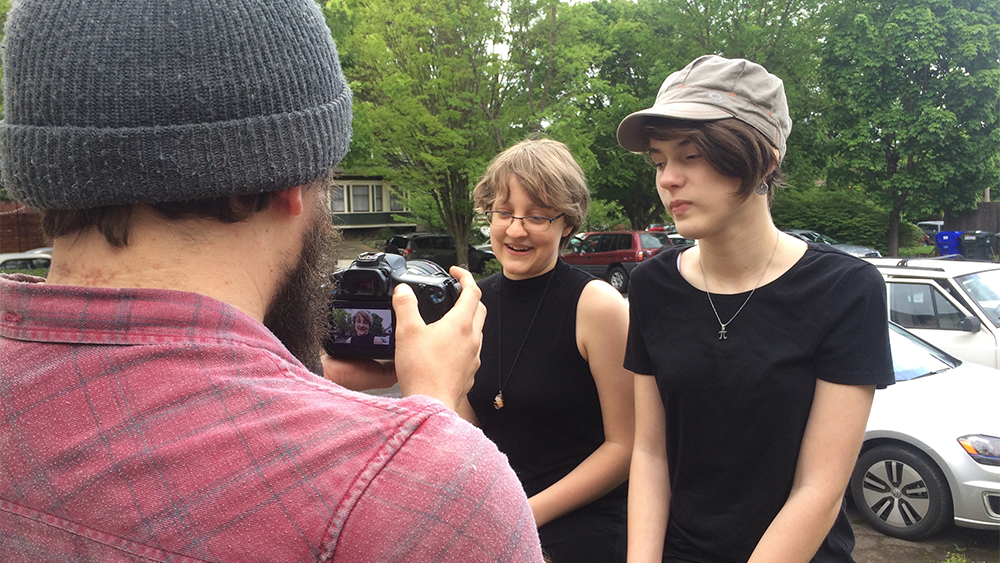 What developed from there was something no one could have expected: the feature and the webisodes were picked up for distribution by Revry - a queer-owned media platform highlighting entertainment and stories often overlooked by the mainstream.
Then, the feature film was selected for the 2018 Outfest Los Angeles film festival, and had its world premiere in Hollywood just a few weeks ago on July 21. The webisodes will premiere later this year on National Coming Out Day, October 11, 2018, streaming for free on Revry's mobile app, web services, and their YouTube channel.
Learn more about this successful collaboration and the Room to Grow project.
Collaborations Give Meaning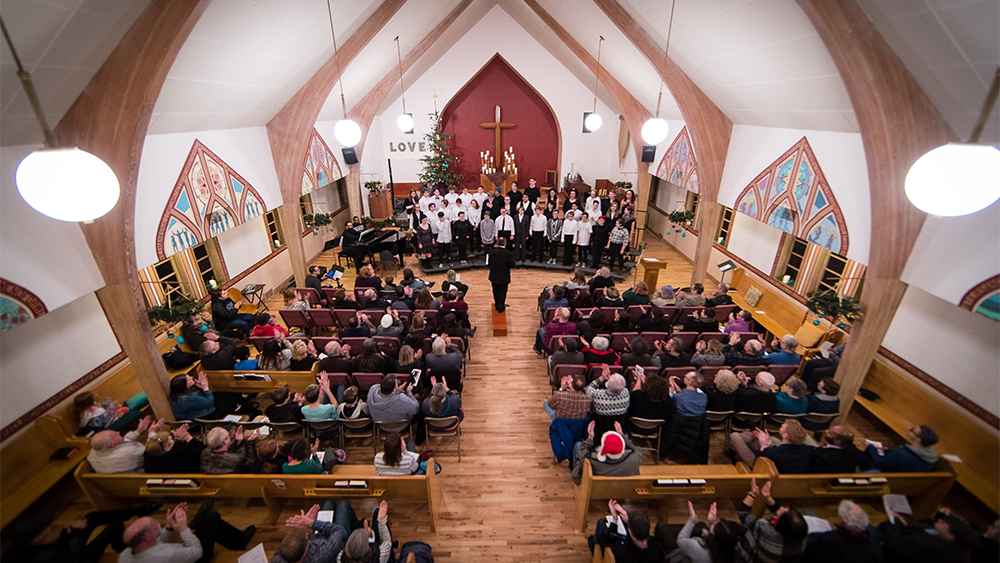 Building relationships, partnerships, and planning collaborations with the community can help choral organizations connect on a meaningful level with their communities. Being part of GALA Choruses has given Bridging Voices a supportive network of sibling choirs both locally, nationally, and internationally, but similar networks exist, and more are starting up across the country.
Sharing resources, sharing concert venues, and collaborating on commissions are all activities that have benefited member choruses. At concerts, other charitable organizations can be featured, collecting donations and even giving appeals from the stage. In return, communities will give back to choral organizations, helping them grow and thrive. Erik says the final word, "The support from our communities has absolutely been integral to our growth and sustainability."
Thank you to Erik Gullickson and Bridging Voices for sharing their story. Learn more about Bridging Voices on their website, like them on Facebook, and follow them on Twitter and Instagram.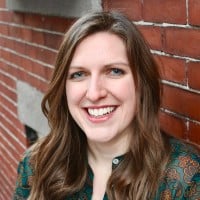 Tori Cook is the former Director of Sales & Marketing at Chorus Connection, an active board member of the Greater Boston Choral Consortium, and a soprano with the Tanglewood Festival Chorus. In a past life, she was the Music Director of the Harborlight Show Chorus and President of Chorus pro-Musica. When not making music, she daydreams about adopting a golden retriever puppy and scuba diving to exotic locations around the world.